Police treating fugitive billionaire's death as 'suspicious'
By Winston Featherly
Thursday, February 14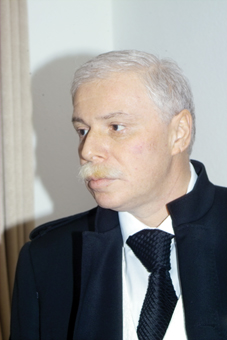 Surrey police are treating the death of Georgian billionaire Badri Patarkatsishvili as 'suspicious,' a spokesperson said.
Patarkatsishvili, a business tycoon who financed an opposition campaign and ran for president after falling out with the Saakashvili administration, died on February 12 at his mansion in Surrey from a heart attack, according to representatives for his family. He was 52.
"As with all unexpected deaths it is being treated as suspicious. A post mortem will be held […] to establish the cause of death," a Surrey police spokesperson said yesterday.
Patarkatsishvili's political allies in Georgia, mirroring conversation on Tbilisi streets, did not wait for the results of the autopsy to cast doubt on the circumstances of his death.
"As his family said, he unexpectedly died from a heart attack—though he had not been sick," said Nona Gaprindashvili, a leader of Patarkatsishvili's political party.
Patarkatsishvili's public image was deeply marred by criminal charges that he was plotting to overthrow the government, but the sudden loss of a prominent and successful Georgian figure stunned the nation yesterday.
The president's office released a statement expressing his condolences to Patarkatsishvili's family.
"Despite the fact that he was accused of a serious crime against the state, it is a great tragedy when any person dies," the statement read.
"Georgia lost a great patriot," oppositional New Rights leader Davit Gamkrelidze declared, adding that any speculation on his death should wait for the autopsy.
But ex-foreign minister Salome Zourabichvili, an opposition coalition leader, flatly labelled his death a "killing."
"We live in a country where political opponents are killed," she told reporters.
Surrey police called in their major crimes unit yesterday. A source within the British police said the unit is not called in for every suspicious death, but can be expected in a high-profile case. It does not necessarily signify evidence of a crime, the source said.
Patarkatsishvili has alleged the Georgian government plotted to kill him.
Speaking in December 2007 to England's The Sunday Times, which is owned by News Corp, Patarkatsishvili's business partner in Imedi TV, the Georgian tycoon claimed to have learned about multiple schemes to assassinate him.
"I was told that about six or eight weeks ago four people from Georgia came to London and stayed with [a Georgian individual] in London. I was told these people had been sent to do something against me," Patarkatsishvili stated.
Months before, a dissident ex-defense minister accused President Mikheil Saakashvili of personally ordering Patarkatsishvili's assassination, but offered no evidence.
In December, authorities accused the tycoon of plotting a violent coup, releasing a secretly recorded tape of him apparently trying to bribe a top Interior Ministry official to abet the conspiracy. Prosecutors filed charges against him on January 10, days after he took seven percent of the vote in a snap presidential election.
Patarkatsishvili, who made his fortune in Russia during the early 1990s, directly and indirectly held vast assets in Georgia, including a stake in the television network he founded, Imedi TV, as well as Standard Bank and other investments.
Tbilisi City Court froze his assets on January 22, citing charges against the billionaire of conspiracy to overthrow the state, to commit assassination and to commit terrorist acts in Georgia. His property within the country, the court ruled, could still be used to carry out his illegal plans.
A Georgian lawyer, who requested anonymity to protect his employer's identity, said under Georgian civil law Patarkatsishvili's assets now pass to his wife and daughters pending the execution of his will.
Ana Datiashvili, Eter Tsotniashvili and Alexander Ward contributed to this article
.