Okruashvili hopes to run in parliamentary elections
By Shorena Labadze
Thursday, February 14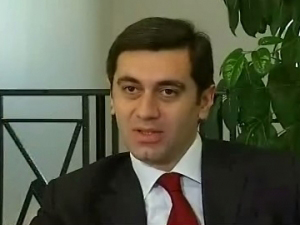 Former defense minister Irakli Okruashvili told Reuters on February 11 he hopes to run in the upcoming parliamentary elections, if the government allows him to register.
Okruashvili, who is under house arrest in Paris awaiting a French decision on an extradition request by Georgian prosecutors, also called on Tbilisi to give concessions to the country's opposition. The opposition are demanding 17 changes which they say are necessary for free and fair parliamentary elections in spring.
"I don't know whether I'll be able to continue [being] involved in Georgian politics according to the French law," he said, adding that being based so far from Georgia will also pose a problem.
The former minister's arrested in September—days after he founded a new political party and accused the government of being involved in corruption and assassination plots—was instrumental in galvanizing the opposition into holding mass protests in November.
With prosecutors' consent he left the country while on bail the day before protests began, but was arrested in Berlin later that month at the request of the Georgian prosecutor general after failing to return to Tbilisi.
In the Reuters interview Okruashvili spoke out about the ongoing dialogue between the government and the opposition, calling on President Mikheil Saakashvili to make concessions.
"[Saakashvili] has to change the chairman of the election commission. He has to change the whole system of the electoral commission," he said, continuing, "There must be a certain level of participation of the opposition in such commissions of course. He should give [media access] to the opposition."
Okruashvili also demanded the arrest of officials involved in the violent crackdown of anti-demonstrators on November 7. "He must investigate cases like that. He has to clean the judiciary from the political influence and make the system clean."
Kakha Kukava of the Conservative Party, which is a member of the opposition coalition, said they would be open to cooperating with Okruashvili if he returns to politics in Georgia.
Opposition coalition representative Davit Berdzenishvili confirmed that the Movement for a United Georgia, the party Okruashvili founded shortly before his arrest, would remain part of the coalition.