Patarkatsishvili had severe heart disease, autopsy finds
Friday, February 15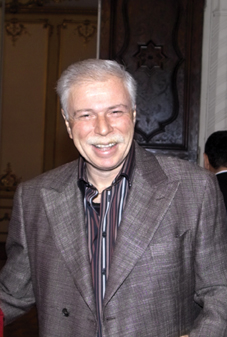 A British doctor said today that an initial autopsy shows Badri Patarkatsishvili suffered from severe heart disease, but police are awaiting the results of toxicology tests before making any conclusions about the cause of his death.
Patarkatsishvili, a business tycoon who financed a political opposition campaign and ran for president after falling out with the Saakashvili administration, collapsed and died on February 12 at his mansion outside London. Representatives for his family said he died from a heart attack. He was 52.
Georgians, out of the respect traditionally accorded to the deceased, are focusing their impromptu eulogies on the billionaire's record of philanthropy within his home country. Patarkatsishvili, despite his controversy, may ultimately enjoy a rose-tinted domestic legacy, but also leaves behind a volatile political deadlock partly of his making.
Death of opposition sponsor shakes Georgian politics
His sudden death, awkwardly timed for the Saakashvili administration, has intensified political passions in a deeply polarized country. Patarkatsishvili's allies are blaming his death—by murder or by stress-induced heart failure—on the government, as the opposition prepare for renewed street protests ahead of crucial parliamentary elections.
"[Patarkatsishvili was] a victim of the disgusting slander campaign launched against him. What difference does it make how [the government] killed him, whether they did it directly or indirectly?" asked MP Gocha Jojua, leader of a parliamentary faction loyal to Patarkatsishvili.
A rally is scheduled today in central Tbilisi, and Conservative MP Kakha Kukava, a leader of the nine-party opposition coalition, warned of "permanent" demonstrations after the government and the opposition failed to find common ground on 17 changes opposition leaders say are needed for fair parliamentary elections in the spring.
Kukava equated Patarkatsishvili's death with that of the late prime minister and Rose Revolution co-architect, Zurab Zhvania. Officially, Zhvania died from an accidental gas leak in 2005, but Georgians are overwhelmingly convinced treachery was involved.
"We can tell our voters that the cases of Zhvania and Patarkatsishvili will be investigated after the parliamentary elections," Kukava said last night, adding that opposition leaders will not speculate on the cause of Patarkatsishvili's death at today's rally. "And no one will have such doubts as they do with Zhvania."
The loss of Patarkatsishvili deprives the opposition of a powerful patron.
Patarkatsishvili, rumored to be the country's wealthiest man and once a backer of President Mikheil Saakashvili, openly declared his intention to finance a confrontational opposition campaign which began last fall with the controversial arrest of an ex-minister. Opposition politicians have denied receiving extensive support from Patarkatsishvili, but ruling party representatives claim he single-handedly orchestrated a push to remove Saakashvili from office.
"The opposition used to visit Patarkatsishvili in London all the time, obviously for money," said ruling party MP Nazi Aronia on February 13. "So [his death] is a big financial loss for them."
When the campaign against Saakashvili blazed into a national crisis as police violently cracked down on peaceful anti-government protestors, authorities accused Patarkatsishvili of attempting to overthrow the state.
In December, prosecutors released a secretly recorded audiotape of Patarkatsishvili apparently trying to recruit a top Interior Ministry official into a violent coup plot. Prosecutors filed charges against him on January 10, days after he took just seven percent of the vote in a snap presidential election which the opposition claim was rigged.
Public opinion of Patarkatsishvili was more vocally ambivalent before his death, with the government's incriminating tapes deeply tarnishing his image. Foreign media reports have misleadingly characterized Patarkatsishvili as an 'opposition leader;' in truth, the behind-the-scenes operator made little inroads in public politics.
Friends say Patarkatsishvili complained of feeling unwell
On February 12, the day of his death, Patarkatsishvili met with his lawyers and a public relations advisor in London, according to the Guardian. He also saw close friend Boris Berezovsky, another oligarch with a Russian fortune living in self-imposed exile.
Patarkatsishvili reportedly complained of not feeling entirely well. He collapsed and died in his mansion that night. Friends say he had been in good health.
"As with all unexpected deaths it is being treated as suspicious," a Surrey police spokesperson said on February 13. A major crimes unit was called to the scene, but preliminary results from a post mortem gave no indication of foul play, police said yesterday. Police also confirmed to British media that there was no trace of radioactive materials around Patarkatsishvili's house, after journalists there drew parallels to the high-profile killing of Russian ex-FSB agent Alexander Litvinenko in 2006.
British media noted that Andrei Lugovoi, the man British prosecutors say assassinated Litvinenko with a radioactive poison, was a long-time personal security chief for Patarkatsishvili.
Death dominates Georgian media
Patarkatsishvili's death has dominated Georgian media since the news broke. Local television networks staked correspondents outside his Tbilisi offices and his sister's home; coverage of the story has been relatively measured, focusing yesterday on initial British police reports suggesting a natural death.
Newspapers, which have practically no impact outside the capital, have been more indulgent of the widespread speculation that he was murdered. Some editions carried interviews with pundits and politicians directly accusing the Saakashvili administration of assassinating its most influential critic.
What Patarkatsishvili leaves behind
With a net worth estimated in the billions, Patarkatsishvili leaves behind an empire of financial holdings, many in Georgia. A Tbilisi court froze his in-country assets after prosecutors charged him with conspiracy, but one of his lawyers said the property should now be released to his heirs.
The lawyer said he did not know the contents of Patarkatsishvili's will.
Under Georgian civil law, his property moves to his wife and two daughters pending the execution of his will.
Patarkatsishvili death also renews questioning over the fate of his Imedi TV, the most watched network in the country before being shut down in a government raid on November 7. Shortly after reopening in December, Imedi TV staff voluntarily suspended broadcasts in the wake of the criminal allegations against its founder.
Giorgi Targamadze, a prominent political news director at Imedi before leaving the station in January to found a new opposition party, said on February 13 that negotiations over the sale of Patarkatsishvili's share in the station—which striking network staff say is a precondition to resuming work—are plunged into doubt.
"Negotiations between News Corporation and Imedi's founder, Mr. Badri Patarkatsishvili continued [until his death]. As I know, [a] concrete agreement was not signed," Targamadze told the newspaper. "The future of Imedi is even more unclear now than it was before."