Kosovo independence carries strong repercussions for Georgia
By Messenger Staff
Monday, February 18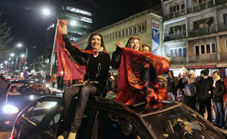 As Western capitals stood poised to recognize an independent Kosovo yesterday, separatist leaders in Georgia's breakaway territories said they would petition for similar recognition while Moscow warned of revising its stance on their independence.
"Kosovo is a precedent," de facto Abkhaz president Sergey Bagapsh told Russian news agency Interfax yesterday, saying that Abkhazia and South Ossetia would resubmit requests for the recognition of its independence to Russia, the UN and the CIS.
Bagapsh and South Ossetian leader Eduard Kokoity are scheduled to make a statement today from Moscow, a few days after they met there with Russian Foreign Minister Sergey Lavrov.
Following that February 15 meeting, the Russian Foreign Ministry released a statement warning, "The declaration and recognition of Kosovo's independence will force Russia to adjust its line regarding Abkhazia and South Ossetia, where the majority of the population has Russian citizenship."
President Mikheil Saakashvili gave a defiant speech at a February 16 nationally-televised cabinet meeting, telling Russia that it has no right to take action in Abkhazia or South Ossetia on the pretense of protecting its citizens.
"[Kokoity and Bagapsh] carry out ethnic cleansing and, therefore, Russia officially receiving them is not either within the interests of Russia or common sense," he said. "I call on [Moscow] not to play with fire."
Pieter van Houten, a politics lecturer at Cambridge University who has worked with Tbilisi State University, says recognition of Kosovo's independence could heighten the rhetorical tension in Georgia but is unlikely to single-handedly change the status quo.
"I don't think [Kosovo independence] will significantly increase the likelihood that other secessionist movements will be successful in their quests," he wrote in an email. "But we will probably a rise in secessionist rhetoric in the short term."
The Georgian government has not taken an official stance on whether it will eventually recognize Kosovo's independence, which has been vigorously promoted by the United States, a key Georgia ally. But on February 16 Kote Gabashvili, chair of the parliamentary foreign relations committee, told reporters that Georgia will not recognize Kosovo's independence, labeling the secession a violation of international norms.
Yesterday, prominent ruling party MP Giga Bokeria confirmed that Tbilisi will not join Washington and many EU member states in recognizing Kosovo as an independent nation today.
But Tbilisi's unwillingness to recognize Kosovo, Bokeria insisted, is not out of fear of setting a precedent for Georgia's breakaway regions.
"There are basic and fundamental differences between Kosovo and many other conflicts," he said, pointing to the expulsion of hundreds of thousands of ethnic Georgians from Abkhazia during the conflict. "There are more differences than similarities [between Kosovo and Abkhazia]."
Recognizing Kosovo independence is a "tough decision" for all world capitals which could be "misinterpreted," he said, and probably would not come for some time from Tbilisi, if ever.
It's "extremely alarming" that Moscow would rethink their stance on Abkhazia and South Ossetia, he added, calling it as "close as it gets to crossing the red line."
Tbilisi is willing to move ahead with relations with Russia, he said, but not at the expense of Georgian territories.
Opposition politicians have issued similar statements, as did Catholicos-Patriarch of All Georgia Ilia II yesterday, who said he warned Russian officials, who have faced down secessionist movements in the North Caucasus, that separatism is a "contagion."
Kosovo's independence led Georgian news coverage, with reports focusing on the Russian Foreign Ministry statement on adjusting its position on Abkhazia and South Ossetia.