Opposition plan Georgia-wide 'town of tents'
By Eter Tsotniashvili
Monday, February 18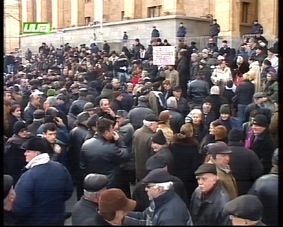 The opposition issued the government an ultimatum at a February 15 protest outside parliament, threatening to turn Georgia into a "town of tents" unless three key demands are met by the end of this week.
"In every capital of each region of Georgia, a national hunger strike will begin and will not finish until the final victory. On February 22 at 2 pm all of Georgia will become a town of tents," announced Levan Gachechiladze, an opposition coalition representative and former presidential candidate.
The opposition submitted 17 demands to the government on January 29 but later suspended talks, saying they would not resume until the government delivers on three key issues: replacing the chair of the Central Election Commission and director general of the Georgian Public Broadcaster as well as releasing "political prisoners."
Last week the government set out their position in a 22-point memorandum, but the opposition rejected it as not properly addressing their demands.
The government's memorandum made few immediate concessions, instead predicating most possible compromises on a consensus down the line.
"All this is pseudo-negotiations and just a front. [The government] do not want to stop political persecution or to release political prisoners," Irakli Batiashvili, who himself was released from jail as part of a government amnesty last month, told protestors outside parliament.
Gachechiladze made a call for volunteers all over Georgia to join the planned nationwide protests this Friday, implicitly suggesting that protestors would need physical protection from police, who hauled hunger strikers off the steps of parliament on November 7.
"There are two kinds of volunteers [that we need]: first, hunger strikers and second, these hunger strikers need protection throughout Georgia," he said.
Giorgi Targamadze, a former TV anchor who recently unveiled his oppositional Christian Democratic Party, attacked the ideology of the government at the protest.
"This ideology is one of untrustworthiness, immorality, lack of faith, and godlessness. This is the current state ideology in Georgia," Targamadze said.
The protest attracted less people than previous demonstrations, with just several thousands turning out on Rustaveli Avenue compared to tens of thousands in the months before.
Protestors this reporter spoke to said personal grievances motivated them to take to the streets, rather than the opposition's overarching political aims.
"Our living conditions are extremely bad. Last month we had a gas bill of GEL 204. How am I meant to make that much money?" one protestor, a widow, demanded.
Another said she was frustrated at government inaction over her dilapidated house, damaged in an earthquake a number of years ago.
The same day, Conservative MP Kakha Kukava announced that the nine-party opposition coalition, which was formed after the controversial arrest of former defense minister Irakli Okruashvili in November 2007, intends to remain together for the upcoming parliamentary elections, tentatively slated for May.