Saakashvili warns against 'provocations' after Kosovo
Tuesday, February 19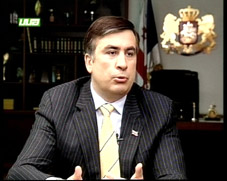 President Mikheil Saakashvili spoke of Georgia's resolve to stop breakaway Abkhazia and South Ossetia from following in Kosovo's wake, as, one by one, Western capitals began to formally recognize the newly-independent state yesterday.
"I know some people are talking about taking steps concerning Georgian territory in response to the West's recognition of Kosovo," Saakashvili said yesterday. "We are ready and have the power to respond to every step taken against Georgia with far more effective steps. We will nip provocations in the bud and respond as needed."
Separatist leaders, meanwhile, vowed to continue their own bid for internationally-recognized independence.
"There is nothing unique about Kosovo," de facto Abkhaz president Sergey Bagapsh said in a Moscow news conference yesterday. "If anyone thinks that Abkhazia, South Ossetia and [Moldovan breakaway region] Transdniester will stop after the recognition of Kosovo, they are making a big mistake."
Bagapsh, together with de facto South Ossetian president Eduard Kokoity, said they will push for recognition of their independence from Russia, the UN and CIS member states.
"An international precedent was created [by recognition of an independent Kosovo], and now our hands and our friends' hands have been untied," Bagapsh said in an earlier interview with Russian television.
Moscow warns it could 'adjust' policy on Georgia's breakaway regions
On February 15, the Russian Foreign Ministry released a statement saying "the declaration and recognition of Kosovo's independence will force Russia to adjust its line regarding Abkhazia and South Ossetia, where the majority of the population has Russian citizenship."
The next day, President Mikheil Saakashvili gave a defiant speech at a televised cabinet meeting, telling Russia it has no right to take action in Abkhazia or South Ossetia on the pretense of protecting its citizens.
"[Kokoity and Bagapsh] carry out ethnic cleansing and, therefore, Russia officially receiving them is not either within the interests of Russia or common sense," he said. "I call on [Moscow] not to play with fire."
Saakashvili is due to meet informally with Russian President Vladimir Putin at the end of this week, and a Georgian delegation is currently in Moscow for talks on resuming links severed by the 2006 Russian embargo.
Yesterday, Prime Minister Lado Gurgenidze said Tbilisi is taking strides to improve relations with Russia, including a possible deal on Russian accession in the WTO, which Georgia has blocked.
"I hope that the issues surrounding Kosovo will not impede the normalization of relations with Russia," he told reporters.
Analysts expect more noise, but little change
Pieter van Houten, a politics lecturer at Cambridge University who has worked on conflict resolution in the Balkans, says recognition of Kosovo's independence could heighten the rhetorical tension in the Caucasus but is unlikely to single-handedly change the status quo.
"I don't think [Kosovo independence] will significantly increase the likelihood that other secessionist movements will be successful in their quests," he wrote in an email on February 17. "But we will probably see a rise in secessionist rhetoric in the short term."
Archil Gegeshidze, an analyst with the Georgian Foundation for Strategic and International Studies, said yesterday that Moscow won't recognize Abkhazia and South Ossetia outright. Leaders of the secessionist regions, he suggested, were told in Moscow that the current Russian policy of material support but non-recognition would continue.
The separatist leadership of Abkhazia and South Ossetia are "not heavily invested" in Kosovo's independence as a moment to capitalize upon, he said, as anything short of Russian recognition leaves them in essentially the same position as the last fifteen years.
If Moscow did recognize Abkhazia and South Ossetia as independent states, Gegeshidze added, Russia and Georgia "would find themselves formally in a state of war without a single bullet being shot," while Moscow would contend with invigorated domestic secessionists and a tarnished reputation.
No Georgian recognition of Kosovo
On February 17, influential ruling party MP Giga Bokeria confirmed that Tbilisi would not recognize Kosovo as an independent nation.
Tbilisi's unwillingness to recognize Kosovo, Bokeria insisted, is not out of fear of setting a precedent for Georgia's breakaway regions.
"There are basic and fundamental differences between Kosovo and many other conflicts," he said, pointing to the expulsion of hundreds of thousands of ethnic Georgians from Abkhazia during the conflict. "There are more differences than similarities [between Kosovo and Abkhazia]."
It's "extremely alarming" that Moscow would rethink their stance on Abkhazia and South Ossetia, he added, calling it as "close as it gets to crossing the red line."
That sentiment is one of few on which the government and the opposition find common ground. As Western capitals began recognizing Kosovo's independence yesterday, opposition politicians demanded that Georgia refrain from joining them. And on February 17, Catholicos-Patriarch of All Georgia Ilia II said he warned Russian officials, who have faced down secessionist movements in the North Caucasus, that separatism is a "contagion."
"Georgians often have different opinions, but in this question the authorities, the opposition and the Church all hold the same opinion: Georgia has been and must remain a whole state," the Patriarch said, in a statement repeatedly shown on Georgia's news broadcasts in the last two days.
But the increasingly intense language belies a fundamentally unchanged position for Georgia's secessionist regions, van Houten wrote.
"The outcomes of secessionist conflicts are not only determined by the rhetoric of secessionist movements, but also (and mostly) by political realities in the respective states and at the international level," he said.
Shorena Labadze contributed to this report.