Opposition start registering hunger strikers
By Eter Tsotniashvili
Tuesday, February 19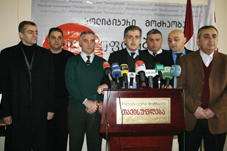 Yesterday, the opposition coalition began registering volunteers pledging to take part in a mass hunger strike due to start February 22 if the government does not meet three key demands.
Meanwhile the government released six people detained in the wake of November 7—when riot police violently dispersed peaceful anti-government protestors—in what parliamentary speaker Nino Burjanadze described as "a serious step" that demonstrates the authorities' commitment to ending the deadlock.
Opposition coalition representative Konstantin Gamsakhurdia announced a number of locations in Tbilisi where demonstrators can sign up for the hunger strike, adding that in the next few days people will be able to register across the country.
Koba Davitashvili, leader of the People's Party and a representative of the nine-party opposition coalition, called for financial assistance as well as volunteers.
"We want to address our supporters and ask for charity," he said, adding that donations of any size would be taken as an expression of support.
The opposition submitted 17 demands to the government on January 29 but later suspended talks, saying they would not resume until the government delivers on three key issues: replacing the chair of the Central Election Commission and director general of the Georgian Public Broadcaster as well as releasing "political prisoners."
At a protest outside parliament on February 15, opposition representative and former presidential candidate Levan Gachechiladze called for countrywide protests this Friday.
"There are two kinds of volunteers [that we need]: first, hunger strikers and second, these hunger strikers need protection throughout Georgia," Gachechiladze said, seeming to imply protestors would need protection against police, who dispersed hunger strikers on parliament's steps on November 7.
Yesterday opposition coalition representative Paata Davitaia told the Messenger they do not anticipate a government crackdown if the demonstration goes ahead.
"We don't expect the government to disperse the protest again, we need guards to give the hunger strikers any assistance they may need," he said.
The Conservative Party, part of the coalition, confirmed yesterday the release of six prisoners, but party leader Kakha Kukava said this is still short of the 30 "political prisoners" that need to be released for the opposition to consider its demand met. He denied that the opposition's next round of protests is meant to provoke a repeat of November 7.
"We have very [minimal] demands," he said. "[The] reassignment of two officials and the release of political prisoners. We are ready for negotiations about other demands."