Government unveils anti-poverty plan
By Christina Tashkevich
Wednesday, February 20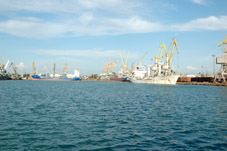 In an ambitious effort to bring the 'Georgia without poverty' slogan into reality, the government presented its working plan for the years ahead yesterday.
The plan is divided into three major categories: employment and investments; the revival of rural areas; and social assistance and education.
"These are what we emphasize, and our success in fulfilling them gives us a Georgia without poverty," Prime Minister Lado Gurgenidze said.
One of the most far-reaching—some analysts say implausible—goals is to turn Georgian into a regional financial hub. The government projects financial assets within the country to reach USD 10 billion in five years, and the prime minister said this year's foreign investment flow could hit USD 1.5 billion.
Foreign direct investment has come to USD 450 million so far this year, the government announced yesterday.
The government plans extensive reforms to transform Georgia into the Cyprus of the Caucasus, from domestic tax breaks to a free economic zone in the port town of Poti.
Income taxes will gradually drop from 25 to 15 percent, while the government hopes tens of thousands of entrepreneurs will benefit from state-issued "easy loans."
For small businesses, the loans act as tax deferrals, allowing entrepreneurs to postpone paying tax bills of less GEL 2 000 for ten years.
Gurgenidze said GEL 25 million from the state budget will be used for small loans to export companies.
The Department of Statistics will also be restructured in the reforms, Minister of Economic Development Eka Sharashidze said.
"The department will be maximally independent, and statistical data will be accurate, up-to-date and reliable," the government's presentation pledged.
Gurgenidze also explored potentials for Georgian exports, proposing greater use of the country's hydropower resources. The prime minister calculated the country could take in EUR 1.2 billion in yearly revenue from exporting electricity after building hydroelectric stations; 11 are already planned.
And in April, the government plans to announce the winner of a bid to create a free economic zone around Poti port, which it estimates will bring in investments of USD 1 billion.
"All of western Georgia will feel a positive economic effect," the government's presentation said.
Also in April, the government will issue Eurobonds worth USD 500 million to fund construction of a natural gas storage terminal and electricity transmission lines connecting Georgia and Turkey.
The government's plan did not neglect the campaign promises of President Mikheil Saakashvili calling for a revival in the country's rural regions.
The government intends to offer loans to farmers, repair irrigation systems and introduce a system of rural doctors.
Minister of Health, Labor and Social Affairs Sandro Kvitashvili said the rural doctors program will begin in the western province of Guria on March 1 and spread across Georgia over the next year.
Prime Minister Gurgenidze also noted yesterday the importance of reopening the Russian market, closed by a 2006 trade ban, for rural Georgian exports.
"I hope we'll have significant progress on opening the Russian market in the next few weeks," Gurgenidze said.
In social and education initiatives, the government promises to increase the minimum pension level to GEL 70 this March, eventually raising it to USD 100 next year.
And Minister of Education and Science Gia Nodia said yesterday the government plans to finance studies abroad for students, as well as give laptops to 7 000 top students this spring.