Hints of compromise at Putin-Saakashvili meeting
By Messenger Staff
Monday, February 25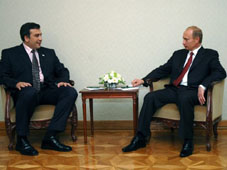 A face-to-face meeting between President Mikheil Saakashvili and Russian counterpart Vladimir Putin on February 21 marked a potential thaw in Russia-Georgia relations, as behind the scenes negotiations continued on key disputes.
Speaking to journalists after the meeting on February 21, Foreign Minister Davit Bakradze said progress had been made in a number of areas and emphasized that the Georgian side had received assurance that Moscow does not intend to recognize Georgia's breakaway regions.
"The promise in principle that we heard from the Russian side [was] that they do not intend to recognize the independence of [secessionist Abkhazia and South Ossetia]," Bakradze said.
The two presidents met on the eve of an informal Commonwealth of Independent States (CIS) summit in Moscow, which was also attended by Dmitri Medvedev, Putin's expected successor in the upcoming election.
Bakradze, who was present at the talks, also said that direct flights between Russia and Georgia are expected to resume by the second half of March, and that experts from both sides would meet to discuss the resumption of Georgian exports to Russia.
Russia banned the import of Georgian wine and mineral water in spring 2006 citing health and safety concerns, before imposing a land, sea and air embargo later that year over a spy row.
Previous negotiations to resume flights between the two countries ended in failure in August, with Russian negotiators claiming an impasse was reached when Georgia refused to pay an alleged USD 3 million debt for air traffic services.
Hinting at a possible concession from Tbilisi, Bakradze discussed Russia's application to the WTO, which Tbilisi is yet to approve. "I think that there's a very good basis for Georgia to state its agreement for Russia's accession to the organization in the near future," he said.
Both presidents sounded upbeat on the day of the meeting last week, with Putin noting "trends toward improvement" in many areas of relations with Georgia.
However, opposition politicians at home fear that improvement could come at a cost. New Rights leader Davit Gamkrelidze suggested Saakashvili agreed to a trade-off that would see him "no longer struggle actively for Georgia's accession into NATO."
On the other hand, Kakha Kukava of the Conservative Party dismissed Gamkrelidze's suggestion as "impossible," adding that Saakashvili could not make major concessions without approval from Washington.
Speaking to Russian newspaper Kommersant on the day of the meeting, the head of the CIS department at the Russian Foreign Ministry, Andrey Kelin, said a key condition for normalizing relations is for Tbilisi to outlaw the establishment of foreign military bases on its territory.
"In the context of Georgia's intentions to join NATO, it is extremely important for us that Georgia pass a law preventing the dislocation of foreign forces," Kelin said.