Opposition call off hunger strike
By Eter Tsotniashvili
Monday, February 25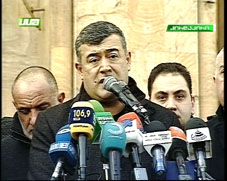 The opposition coalition called off a hunger strike planned for February 22, with former presidential candidate Levan Gachechiladze telling a light crowd of supporters that the coalition would take the high road after the government agreed to key concessions.
"Today, we are deliberately avoiding steps which would strain the situation," Gachechiladze told the assembled protestors outside parliament. "[We will prove] that we can organize more than just street rallies; we are serious people who can rule this country."
No more than a few hundred demonstrators gathered that afternoon, and the promised 'town of tents' was nowhere in sight. Turnout for opposition protests has plunged from the tens of thousands who demanded a runoff immediately after the disputed January 5 presidential election, while the opposition's demands have shrank from the expulsion of President Mikheil Saakashvili to the resignation of two state officials and the release of 'political prisoners.'
Gachechiladze said Speaker of Parliament Nino Burjanadze promised in a telephone call to meet those three demands by specified deadlines.
"Nino Burjanadze gave me solid guarantees that the political prisoners will be released soon, the Georgian Public Broadcaster will get a new director by February 26 and a new chair of the Central Election Commission will be appointed by March 15," Gachechiladze told supporters at the abortive February 22 rally.
But Speaker of Parliament Nino Burjanadze, commenting to reporters that evening from Vienna, severely undercut Gachechiladze, denying that she offered him any "guarantees."
"There have not been any additional guarantees and nor will there ever be any, because our statements are a guarantee on their own," Burjanadze said, pointing out that the government has taken steps to fulfill its pledges, including the release of opposition supporters arrested on November 7. "If there is someone who wants to speak of additional guarantees or another excuse to avoid radical steps and take the normal path of elections…this is another issue and I should not comment on it today."
Indeed, many observers concluded that the opposition had run out of steam on February 22, with uncertain financial support and a meager headcount at the protest. The apparently tactical decision to call off the hunger strike was controversial amongst the nine-party opposition coalition, with Eka Beselia of the Movement for a United Georgia, one of the constituent coalition parties, publicly disagreeing with the move.
"We are still making those demands because we don't believe the government's promises," she told Rustavi 2 on February 22. "We thought it would be right to postpone the protest [only] after we see that concrete decisions are made. But we will stay in the [coalition]."
While many of the opposition demonstrators were dissatisfied with the cancellation of the hunger strike, at least some saw a win for their camp.
"I agree with this decision [to cancel the protest]," opposition supporter Tsitso Bochorishvili said. "The government was afraid of hunger strikes and decided to compromise."
Opposition coalition leaders say the time for street protests has past, and they are now ready to run a parliamentary election campaign. The ruling party has suggested it will schedule the next elections in late May.