Parliament picks new public broadcaster board
By Christina Tashkevich
Wednesday, February 27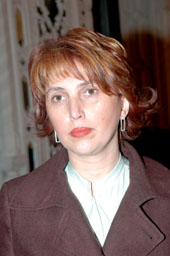 Parliament approved a nine-member non-partisan board of trustees for the Georgian Public Broadcaster (GPB) yesterday, bringing resolution near for a prominent political dispute.
Following the January 5 presidential election, the opposition demanded a new supervisory board with partisan balance for the GPB and the resignation of director general Tamar Kintsurashvili.
International observers had criticized the Georgian media, including the state-owned public broadcaster, for giving more positive coverage to incumbent Mikheil Saakashvili than other candidates.
Speaker of Parliament Nino Burjanadze emphasized the need for the new board to win trust from the opposition and the public alike.
"It's important that this board includes people whom society trusts and whom politicians express their trust for," Burjanadze said yesterday.
235 applications were submitted, with the president picking a shortlist of 27 after consultations between the government and the opposition.
The final board includes publisher Bakur Sulakauri; Tbilisi State University journalism professor Marina Vekua; singer Irma Sokhadze; historian Giorgi Anchabadze; film directors Irakli Tripolski and Mikheil Chiaureli; audit company chief Zurab Kharatishvili; university PR worker Levan Gakheladze; and
24 Saati
editor Mamuka Pachuashvili.
Gia Tortladze of the opposition coalition says the opposition welcomes the new board and is ready "to trust them."
"They are honorable people, new faces and professionals. They have no political background and know the TV business very well," Tortladze told the paper.
The opposition had made an ultimatum of GPB director general Kintsurashvili's resignation, along with that of the Central Election Commission (CEC) chair. The government said Kintsurashvili would resign only after a new board was chosen; on February 22, opposition leader Levan Gachechiladze called off a planned hunger strike, saying the government guaranteed Kintsurashvili would resign yesterday. The CEC chair remains in his post.
Tortladze said yesterday that the opposition is now waiting for the board to select a new director general for the public broadcaster.