Patarkatsishvili's body returns home
By Ana Datiashvili
Wednesday, February 27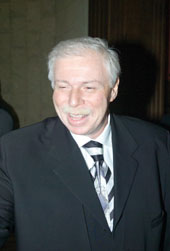 Family members and friends of Badri Patarkatsishvili gathered at the airport yesterday morning to somberly greet the coffin of the deceased billionaire.
"[British authorities] informed us that, despite the ongoing investigation into the cause of Badri's death, the family can bring him home," his family said in a February 24 statement, adding that they will continue to fund his charitable foundation and will take it upon themselves to decide what happens with his Imedi media group.
Patarkatsishvili's body was brought to a synagogue before being moved to Arkadia, the former wedding chapel he restyled into a personal palace. He is to be buried in the complex's yard tomorrow.
Among those expected to pay their respects are Israeli President Shimon Peres, Russian oligarch Roman Abramovich, the brothers of US Senator Hillary Clinton and media baron Rupert Murdoch, whose News Corp was Patarkatsishvili's business partner in Imedi TV.
Opposition politician Goga Khaindrava says Peres offered to bury Patarkatsishvili in Israel with honors.
"The family thanked the Israeli president for attention, but decided to bury Badri in Tbilisi where he was born and lived most of his life," Khaindrava told reporters on February 24.
Patarkatsishvili, who financed an opposition campaign and ran for president after falling out with the Saakashvili administration, died on February 12 at his mansion near London at the age of 52. An initial post mortem suggested he died of heart failure, but English investigators are carrying out extensive toxicology tests before making any conclusions. Results from the tests are expected in two months.
In the January 5 presidential election, Patarkatsishvili took seven percent of the vote amid charges he was conspiring to overthrow the government.
Pundit Ramaz Sakvarelidze says Patarkatsishvili's death will continue to reverberate in Georgia long after the billionaire is buried.
"Patarkatsishvili's death leaves people with several questions, as happened after [late prime minister] Zurab Zhvania died," he told the newspaper. "Despite official documents which say [the cause of Patarkatsishvili's death] was a heart attack, there are always questions and doubts."
But more than the conspiracy theories, the loss of Patarkatsishvili's vast wealth—widely estimated at more than USD 10 billion—will shakeup the civil landscape of the country. His Imedi TV, once the most watched channel in Georgia, is off-air pending ownership negotiations, which are now made much more complex. And yesterday opposition leaders agitated for the release of the late businessman's assets, frozen after prosecutors charged him with plotting a coup.
"We expect that the authorities will unfreeze the assets of Badri Patarkatsishvili and suspend the criminal proceedings against him," said opposition coalition member Kakha Kukava. "His property must be returned to his relatives. We'll pay attention to this case and try to prevent this case from becoming a subject for political debates."