Detained journalist's family expect imminent release
By Ana Datiashvili
Wednesday, March 5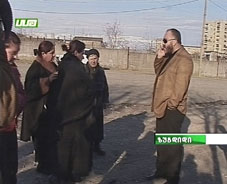 The family of Malkhaz Basilaia, a Georgian journalist detained in breakaway Abkhazia, ended their hunger strike yesterday after being told that Basilaia would be released within days.
"Journalists told us that my son will be released in two days," said Giga Basilaia, the detained journalist's father. "If the Abkhaz refuse to do this, I'll go there myself and I don't care whether they detain me or not."
Basilaia's family also pledged to restart hunger strikes if the reporter is not freed soon.
Sergey Bagapsh, the de facto Abkhaz president, suggested on March 3 that Basilaia could be released after an investigation.
"If an investigation proves that the detained [Georgians] did not commit any other unlawful activities apart from illegally crossing the Abkhaz state border, the issue of their release may be positively settled," Bagapsh said, according to the official Abkhaz news agency Apsnypress.
Yesterday morning, university students from Zugdidi, the last Georgian city before separatist-controlled Abkhazia, joined journalists for a rally near the administrative border to protest Basilaia's detention.
The students asked for solidarity from Abkhazian students, then, joined by students from Kutaisi, sang the Georgian anthem and chanted, "You can't take Abkhazia from us."
Raul Kiria, a spokesperson for the Tbilisi-backed Abkhazian government-in-exile, also said yesterday that Basilaia is expected to be released by tomorrow, crediting in part a group of Abkhazian journalists who met with Bagapsh on March 3 to press for his release.
"I really appreciate the Abkhazian journalists' effort. They tried their best with Bagapsh, so I hope that very soon Basilaia will be at home," Kiria told the paper.
Also on March 3, which was Mother's Day in Georgia, Speaker of Parliament Nino Burjanadze urged Sokhumi to release Basilaia out of both compassion and prudence.
"As a mother, I ask the Abkhazian side to let the detained young man go back to his family, and to make steps that would contribute to dialogue in the future," Burjanadze said.
Basilaia, a journalist with the Mze television channel, was detained by Abkhaz forces on February 26. The next day, President Mikheil Saakashvili warned that he would send police into Sokhumi to free Basilaia if the separatist authorities did not release him.