Tbilisi unilaterally ditches South Ossetia negotiating format
By Alexander Ward
Wednesday, March 5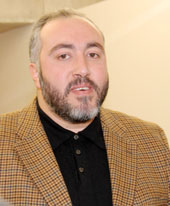 Tbilisi sees no point in continuing talks over South Ossetia in the Joint Control Commission (JCC) negotiation format, State Minister for Reintegration Issues Temur Iakobashvili said yesterday.
"We have previously declared and I'll say it again, that we do not consider the JCC to be a tool that will bring conflict settlement closer," Iakobashvili told reporters.
He added that Russian special envoy Yuri Popov, who arrived in Tbilisi yesterday to discuss future JCC negotiations, would be received by Georgian officials "only as a Russian diplomat…and not as the JCC co-chairman from Russia."
The government has long voiced its dissatisfaction with the JCC—which comprises negotiating teams from Georgia, Russia, South Ossetia and North Ossetia—branding it "unfair" and representing a three-to-one bias.
Iakobashvili said a new format to replace the JCC should involve representatives from the Tbilisi-backed alternative South Ossetia administration headed by Dmitry Sanakoyev, set up by the government last year.
Moscow and de facto South Ossetian authorities refuse to recognize Sanakoyev's administration as a legitimate side in the talks, stating that he does not represent the Ossetian people.
No Russian officials were available for comment on whether Russia would accept a change to the JCC framework; in the past, Moscow has maintained that the JCC is the most effective way of conducting conflict talks.
The state minister called for a new "2+2+2" format consisting of negotiators from Tbilisi and Sanakoyev's administration, Moscow and the de facto South Ossetian authorities, and the OSCE and EU.
Last week Iakobashvili said that Tbilisi had already informed Russia of its proposals.
"New realities have taken shape in the Tskhinvali region, and they require new approaches," ITAR-TASS quoted him as saying on February 29.
Speaking yesterday Popov said he would hold talks with government officials before heading to the de facto South Ossetian capital Tskhinvali to meet separatist representatives.
"I'll have consultations with both sides to see how it is possible to move forward the negotiating process," he told journalists.
The JCC was set up as part of the 1992 Russian-brokered Sochi Agreement and has acted as the main framework for conflict talks ever since.
South Ossetia's de facto deputy foreign minister, Alan Pliev, said any change in the negotiating format would depend on agreement from all four sides of the JCC, in a statement posted on an official separatist website yesterday.