From Kakheti to Seattle: small wineries making a splash in the United States
By Diana Dundua
Wednesday, March 5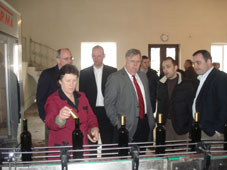 Georgian wines are due to hit supermarket shelves in Seattle next week, as Georgia continues efforts to expand its presence on the international wine market two years into the Russian trade embargo.
Vintages produced in Vinoterra and Tsinandali Old Cellar wineries in Georgia's wine producing province of Kakheti will be sold at stores belonging to Whole Foods, an organic foods chain.
USAID's AgVANTAGE project, which assists Georgian farmers, helped facilitate the export deal and organized a promotional wine tour on February 29, attended by US Ambassador John Tefft, government officials and USAID mission director Robert Wilson.
"This will be a great relief because we used to be focused on the Russian market and found ourselves in a very difficult situation after the economic embargo," Eldar Mildiani, a co-owner of Tsinandali Old Cellar told the newspaper. "We have started to export to Poland, Israel, Canada and some other European countries but the US market will be very significant for us."
Georgia and Russia have reported more progress in talks on lifting the embargo—imposed ostensibly for health concerns in 2006 as Georgian-Russian relations deteriorated—since President Mikheil Saakashvili began his second term in office.
"I'm always glad to visit Kakheti but this is a particularly good day," Ambassador Tefft told journalists. "I'm happy that US citizens will also have the chance to taste high-quality Georgian wine."
He also expressed hope that the increased exports will help create more job opportunities across the country. AgVANTAGE marketing communications specialist Tamuna Metrevely said that around 60 people are currently employed in the two wineries beginning exports to the US.
Deputy Economic Development Minister Vakhtang Lezhava, who was also on the wine tour, said the new export deal is just a taste of what is to come.
"I think that these wineries are little models showing what Georgian wine production should look like in two to three years," he said, continuing, "This should be a world-oriented export that helps to create new jobs in the country."
The AgVANTAGE project began supporting Georgian wineries in 2007 and collaborated with the Agriculture Ministry in sending 21 Georgian companies to the Fancy Food Show in New York last July, including six of Georgia's leading wine brands.
The first batch of wine—expected to have a shelf price tag of USD 9–12—will be 10 000 bottles from Tsinandali Old Cellar and 3000 from Vinoterra. Both wineries are in talks to double the export volume in the near future, company representatives said.