Public broadcaster's director general resigns
By Ana Datiashvili
Thursday, March 6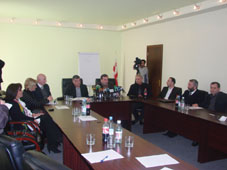 The board of trustees of the Georgian Public Broadcast (GPB) accepted the resignation of channel director general Tamar Kintsurashvili and invited applications to replace her yesterday.
Kintsurashvili, whose resignation was a key opposition demand after the January 5 presidential election, said on February 14 she would leave her post after a new board was elected.
On February 26 parliament approved the new board of trustees, which was decided upon through government and opposition consultations.
Levan Giorgadze, formerly deputy to Kintsirashvili, will be acting director general of the GPB until a new director general is chosen.
"I will assume this position for thirty days and will do my utmost to ensure that this transitional period does not have a negative impact on the service," Giorgadze said.
The same day the board elected a chairman, Irakli Tripolsky, founder of a now defunct television production company.
"This station must be based on justice, honesty and of course we should meet the expectations of the Georgian nation," Tripolsky told journalists yesterday.
Board member Giorgi Anchabadze said they would aim to restore the image of the public broadcaster, now not watched as widely as it once was.
"I hope quite soon the GPB will…remind people of the old GPB, which used to be very popular," Anchabadze said.
Board member Marina Vekua, a university professor, told the
Messenger
that the first meeting went smoothly. "Every member from the board is eager to work and are motivated to do good things, which means rebuilding the GPB and working for its development and success," Vekua said.
The opposition demanded a new GPB board of trustees with partisan balance as well as the resignation of director general Tamar Kintsurashvili following the January 5 election.
International observers had criticized the Georgian media, including the state-owned public broadcaster, for giving more positive coverage to incumbent Mikheil Saakashvili than other candidates in the run up to polling day.
The GPB posted qualifications needed for the next director general on its website yesterday. There must be no "conflicts of interest" for the applicant, the notice said.