Government upbeat on NATO membership
By Messenger Staff
Tuesday, March 11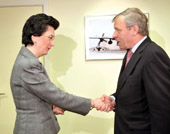 Government officials said Georgia is "very close" to receiving a NATO Membership Action Plan (MAP) after a meeting of NATO foreign members in Brussels last week, while Alliance officials said no decisions have been made.
"Georgia is very close to its goal…We have very serious support from our friends," Parliamentary Speaker Nino Burjanadze declared on March 8, shortly after returning from Brussels.
The following day President Mikheil Saakashvili said the country was "half a step closer" to achieving a MAP, the next stage in progression toward full membership, and "only one step away from restoring Georgia's territorial integrity."
Georgia is hoping to receive a MAP at the upcoming summit in Bucharest on April 2–4.
Last week some Russian media reported that the possibility of Georgia receiving a MAP had been ruled out, after Robert Simmons, NATO envoy to the Caucasus and Central Asia, commented there was no consensus on the issue "right now" at a Moscow news conference.
However, Secretary General Jaap de Hoop Scheffer emphasized that no decision has been made on Georgia's MAP aspirations after meeting Burjanadze and Foreign Minister Davit Bakradze in Brussels.
"NATO's door is open and who finally passes through that door is decided by the NATO allies and only by them and not by any other nation," the NATO official said.
Meanwhile, the Polish Foreign Ministry said Foreign Minister Radoslaw Sikorski underlined Georgia and Ukraine's eligibility for MAPs at the Brussels meeting.
"Mr. Sikroski emphasized that those countries had developed pluralism and mature democracy thus were, as such, eligible to obtain the MAP," a statement from the Foreign Ministry reads.
However, other NATO members were not as upbeat on the two countries' chances.
German Chancellor Angela Merkel said yesterday that countries "enmeshed in regional conflicts shouldn't try to become [NATO] members," according to the Bloomberg news agency. She was due to meet de Hoop Scheffer later in the day.
The Luxembourg and French foreign ministers both emphasized that the impact of the Georgian and Ukraine bids' on relations with Russia would have to be taken into consideration at the NATO meeting last week.
In an interview with German newspaper Spiegel printed yesterday, Russian Ambassador to NATO Dmitry Rogozin warned that if Georgia joins the alliance it will "permanently lose" its breakaway regions of Abkhazia and South Ossetia. "The attempt to push Georgia into NATO is a provocation that could lead to bloodshed," he said.