Russian official says Georgia-Russia flights ready to resume
By Christina Tashkevich
Wednesday, March 12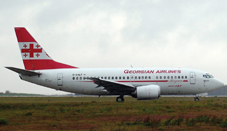 Flights between Georgia and Russia may resume by the end of March, a Russian official said after Georgia paid off most of its debts to Russian airline authorities.
Head of the Russian air navigation service Alexander Neradko said the Georgian side has transferred USD 2 million to the account of the Russian service. The Russian official added this gives Russian officials "a hope that air link between Russia and Georgia would be resumed."
"There are no economic obstacles for [resuming flights] at the moment," Neradko said.
Georgian Minister of Economic Development Eka Sharashidze told journalists last week there is still USD 1.7 million to be gradually paid off by the end of the year.
After last month's high-level talks in Moscow, Russian officials said they are willing to restore the flights if the debt is paid off. This decision left two Georgian airlines which ran flights to Russia at odds on who will repay the debt.
Both Airzena and Georgian National Airlines said they bear responsibility for the debt, as it stems from several small airlines, now defunct, which operated in Georgia in the 1990s.
The Ministry of Economic Development asked the companies to pay off the debt as "a goodwill gesture." Airzena agreed to pay USD 2 million, while Georgian National Airlines said it won't pay a single cent.
One of the largest Russian air carriers, Aeroflot, also lost its Georgian market after direct flight links were suspended in a diplomatic row in 2006.
On March 11 the company's spokeswoman said Aeroflot is ready to resume flights to Georgia after an official decision is made by Russian and Georgian authorities.
"We are ready to follow all decisions of the authorities concerning the resumption and number of flights to Georgia," Irina Danenberg said.
Russia suspended all transport links with Tbilisi after a 2006 confrontation stemming from the arrest of several alleged Russian spies, leaving Georgian airlines with substantial losses. For almost two years, travelers between Georgian and Russia routed through neighboring countries, increasing their ticket prices and flying time.