Duma may recommend Russian missions to Abkhazia, South Ossetia
By Christina Tashkevich
Friday, March 14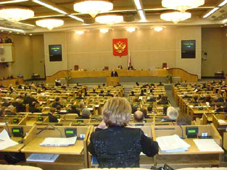 Russian MPs plan to advise their government to open missions in the self-declared republics of Abkhazia, South Ossetia and Transdniester, after the first day of Duma hearings on whether to propose full recognition of the unrecognized separatist regions.
The committee debating the planned resolution yesterday stopped short of proposing formal recognition, but did not rule out the possibility of including the recommendation in the final resolution.
The MPs also recommended developing economic cooperation with the separatist regions and supporting Russian citizens living in the territories, where many residents hold Russian passports.
Another recommendation calls for "strong resistance to any attempts at political, economic and military pressure" on the self-declared republics.
It was the first hearing of Russia's lower house of parliament on possible recognition of breakaway Abkhazia, South Ossetia and Moldova's Transdniester. Chairman of the Duma CIS committee Aleskey Ostrovsky told journalists that the Duma would adopt a final resolution on March 19.
Ostrovsky said the final resolution will contain recommendations to the Russian president and Foreign Ministry on changing the format of Russia's relations with the secessionist regions.
"Russia cannot stay indifferent," he told journalists.
The de facto vice-speaker of South Ossetia's parliament, Yuri Dzitsoity, who spoke at the Duma hearing, said Abkhazia and South Ossetia have more right to independence than Kosovo.
"An attempt to recognize Kosovo [as having] more rights to independence than South Ossetia and Abkhazia makes a double standard in world politics," he said.
Representatives of the Abkhazian and Transdniesterian de facto authorities also spoke at the hearing.
Georgian Foreign Minister Davit Bakradze warned on March 12 that any "radical decision" from the Duma could destabilize regional security.
"[This] will negatively affect Russia's southern border security," Bakradze told reporters.
A representative for the Russian Foreign Ministry said the Duma's decision would be "of a weighty nature," indicating it will be hard for Russian authorities to ignore it.
The proceedings were motivated by Kosovo's declaration of independence last month, the representative suggested.
"The Kosovo issue has made conflict settlement difficult and provoked tension," he told journalists.
Archil Gegeshidze, an analyst with the Georgian Foundation for Strategic Studies, thinks it unlikely the Russian government will formally recognize Abkhazia and South Ossetia.
"Russia will never say loudly that [recognition] is not in its plans…[but] it will never make a practical step toward this direction," he told the paper on March 12.
However, he noted Moscow, for all intents and purposes, comes very close to treating Abkhazia as part of its own territory.
"The degree of attention to Abkhazia from Russia is so high that there is little left to further integrate Abkhazia into Russia," he said.