Opposition leader meets Berezovsky
By Eter Tsotniashvili
Friday, March 14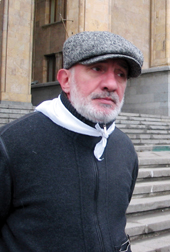 The eight-party opposition coalition, looking for a show of strength, is urging all its supporters to demonstrate in front of parliament on March 16.
Leading coalition member Levan Gachechiladze said the mass rally would support the hunger strikers currently encamped on parliament's steps. But the announcement was overshadowed by the drama of television reporters quizzing a leading opposition politician on his recent meeting with an exiled Russian oligarch.
Goga Khaindrava, a filmmaker and leading opposition coalition member, met in London with Boris Berezovsky, a close associate of the late Georgian billionaire and opposition patron Badri Patarkatsishvili.
Berezovsky confirmed the meeting to television station Rustavi 2 yesterday, but declined further comment. Khaindrava has also refused to offer details of the meeting.
Khaindrava said he went to London to sign a deal to make a documentary about Patarkatsishvili's death, saying he also met with Patarkatsishvili's widow.
Patarkatsishvili, accused by Tbilisi of plotting to overthrow the state, died on February 12 in his Surrey mansion, apparently from heart failure.
There were suggestions that Khaindrava met with Berezovsky to seek financing for the opposition coalition's campaign. But a ruling party representative, in an unusually moderate comment, declined to speculate on reasons for the meeting.
"I have no idea why Khaindrava met him. I don't want someone to accuse me of making [false] statements," majority MP Davit Kirkitadze told the paper.
Khaindrava's colleagues also refused to comment on his meeting with Berezovsky.
"It's an individual choice where a person goes and who they meet," leading coalition member Gia Tortladze told reporters yesterday. "[Khaindrava] didn't inform us whether he was going to meet [Berezovsky], and at the same time I don't think we need to tell each other [in the coalition] where we are going or whom we are meeting."
Returning to Tbilisi, Khaindrava joined fellow opposition campaigners on the steps of parliament, where dozens are on hunger strike in demand of a repeat presidential election, the freeing of 'political prisoners,' and free and fair parliamentary elections.
At least four hunger strikers have been taken to hospitals for medical attention. The opposition coalition has asked Tbilisi City Hall to extend their demonstration permit, which runs out on March 19.
The populist Labor Party, which has criticized the opposition coalition for not being radical enough, called yesterday for a boycott of the May parliamentary elections.
"Only by boycotting [the election] can we attract attention to the undemocratic processes going on in Georgia," Labor leader Shalva Natelashvili announced, saying this would be a more effective protest tactic than hunger strikes.
But Natelashvili said Labor would ultimately run in the elections if other opposition parties refused the boycott.
MP Tortladze, of the opposition coalition, said they would not consider a boycott.
"We're not of the same mind as [Natelashvili]," Tortladze told the paper. "I think he needs medical treatment, and I call on him to seek help."
There were other minor fissures in the opposition evident yesterday, following the March 12 meeting between President Mikheil Saakashvili and Industrialists leader Gogi Topadze and Gia Maisashvili, who took less than one percent as a candidate in the January 5 presidential election.
An opposition coalition campaigner outside parliament pulled down the flag of Maisashvili's Party of the Future, calling Maisashvili "unethical" for meeting with a president who the opposition—which says the presidential poll was rigged—refuses to deal with.
"It is unacceptable to have any kind of dialogue with the illegal president," said Eka Beselia, of the Movement for a United Georgia and a leading coalition member.
The moderate New Rights Party, which is not in the coalition, also criticized the Industrialists leader for meeting with Saakashvili. The New Rights and the Industrialists are allied in a parliamentary faction.
"We assess [the Industrialists'] step as extremely negative," New Rights MP Mamuka Katsitadze said yesterday.
Saakashvili met the two opposition politicians after his call for political unity in the face of Russia's decision to withdraw from a trade embargo on breakaway Abkhazia.
"There are political differences between us and are some issues which are not agreed between us, but it is impossible to conflict on the question of Georgia's territorial integrity and Georgia's future," Saakashvili said.