Opposition calling for Burjanadze's resignation
By Anna Kamushadze
Tuesday, March 18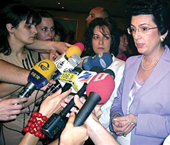 The opposition are increasingly vocal in their calls for the parliamentary speaker to step down, with protestors adding her resignation to their list of demands over the weekend.
Parliamentary Speaker Nino Burjanadze called the demand for her resignation, which comes about eight weeks before parliamentary elections, "unserious" rhetoric and part of opposition's campaigning.
"I think the opposition is trying to deceive people. But our society understands quite well what the situation is," she told journalists yesterday.
The opposition say Burjanadze is responsible for the failed negotiations with the government. Burjanadze said on March 16 she would consider resigning only if the opposition gives up all other demands, including that of President Mikheil Saakashvili's resignation.
Opposition leaders said they would not compromise on their demands.
"Burjanadze's resignation will be a very correct step from [to defuse the political tension]," Zviad Dzidziguri, a leader of the eight-party opposition coalition, said yesterday.
Another coalition member, Bidzina Gujabidze, told journalists that voters would support Burjanadze's resignation after she showed an "inhumane attitude" toward the hunger strikers outside parliament.
The New Rights, a moderate party not in the opposition coalition, claim Burjanadze's resignation is necessary for fair elections.
"We need a decent environment for fair elections, and to ensure this environment we need Burjanadze to resign... Burjanadze violated the constitution," New Rights member Davit Saganelidze said yesterday.
On March 16, opposition campaigners began gathering signatures on a petition calling for Burjanadze's resignation, and demonstrated in front of Burjanadze's Tbilisi residence.
The ruling party defends Burjanadze by suggesting Georgian voters largely support the parliamentary speaker.
Gigi Tsereteli, chair of the parliamentary committee on healthcare and social issues, said Burjanadze did her best to reach a compromise with the opposition over the last tumultuous months.
"Burjanadze is very experienced politician inside the country as well as abroad, and what she says and thinks is useful for the country," Tsereteli told reporters yesterday.
Burjanadze regularly tops informal opinion polls of respected Georgian women and politicians; the newspaper
Kviris Palitra
published a survey last week ranking the parliamentary speaker the country's most successful woman.