Patarkatsishvili ally launches new party
By Shorena Labadze
Tuesday, March 18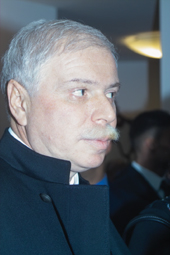 The former head of late Georgian billionaire Badri Patarkatsishvili's presidential election campaign officially launched a new political party on March 14.
"Our aim is to create a state based on justice," said Gocha Jojua at the presentation of the party, Our Georgia.
Jojua also said that while the party is set up by former allies of Patarkatsishvili—who died in his English mansion in February—it has no official ties with the businessman's estate.
Speaking to the
Messenger
, Jojua did not rule out cooperating with other political parties.
"Our main priority will be removing Saakashvili from power. I don't rule out forming political relations with other parties to achieve this goal," he said, adding that the party would be open to collaboration with "any political power which displays democratic trends and ideas."
He also said that while the party currently has no financial backing, he will try to keep the identity of any future donors secret.
"Saakashvili is the least trustful of political figures and you cannot predict his future malicious acts," he said. "I will do my best to hide [the identities of] my contributors from him."
Georgian law requires the reporting of political donations.
Patarkatsishvili announced his intention to finance the opposition when they launched anti-government protests last November.
In the midst of a presidential campaign the following month, the government released video and audio tape which allegedly showed the businessman plotting a coup to follow the January 5 election.
Party member Shalva Khachapuridze said the party's platform, still being hammered out, will be based on Patarkatsishvili's recent election campaign.
Meanwhile, Boris Berezovsky, the London-based exiled Russian oligarch wanted by prosecutors in Moscow, said he would continue the course Patarkatsishvili played in Georgian politics.
"I am going to do what Badri did," Berezovsky said in a March 13 interview with the television station Rustavi 2. He also confirmed that he met with opposition coalition representative Goga Khaindrava in London last week.
"He told me about the political situation in Georgia. Of course, I am not indifferent to that," Berezovsky said.
However, Jojua denies that Berezovsky has agreed to back the new party. "As for Berezovsky, I have no connection with him and there are no plans to cooperate with him in the near future, but I don't rule this out," he said.