Georgia not a 'colony,' say opposition at US Embassy protest
By Anna Kamushadze
Thursday, March 20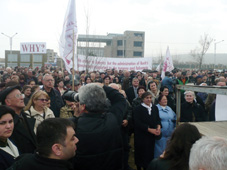 With President Mikheil Saakashvili on a visit to Washington, the eight-party opposition coalition rallied outside the US Embassy to Georgia yesterday to protest perceived American support for his administration.
The demonstration coincided with Saakashvili's meeting with the US president.
Levan Gachechiladze, the opposition coalition's former candidate for president, questioned the motivation for Washington's interest in Georgia.
"Is it a geopolitical interest, or interest in the democratic development of the country?" Gachechiladze asked. "If it's about democracy, then it's important how [Washington] evaluates fraudulent elections."
The opposition claim the January 5 snap presidential election was rigged to hand Saakashvili a second term. International observers noted many serious irregularities, but deemed the election essentially democratic.
"We don't need Georgia to be a colony, with the president and government appointed by Washington. We are an independent country and we need an elected president," said Conservative MP Kakha Kukava, a leading coalition member.
In a January 19 press conference in Tbilisi, Matthew Bryza, the US State Department's top envoy for the region, emphasized that it is "not the individuals that matter [for the US], it's Georgia and Georgian democracy."
"Our focus is not on taking emergency steps to improve our reputation in Georgia," he said. "I think the Georgian people know that no country, I would argue, has done as much as we have [for Georgia]."
Goga Khaindrava, a leading coalition member, said the protest is not against America, but against a position staked out by a portion of its government.
MP Davit Kirkitadze, a leading ruling party member, said the opposition has been inconsistent in their messages to the international community.
"I remember recently they were condemning America, and today they say the American people are their friends and ask them for help," Kirkitadze said. He suggested the opposition should protest in front of the Russian Embassy instead, and ask Moscow to lift its economic sanctions on Georgia.
Most of the two or three thousand protestors outside the US Embassy seemed motivated by intense opposition to Saakashvili, rather than to America's role in Georgia.
"We want to tell Bush not to accept the self-declared president as legitimate," said Lia, an opposition supporter. "Let's remember what [Saakashvili] did on November 7, what he did with Imedi TV, what he did with journalists, what he did with all of us. And he's in America saying this is all part of democracy in Georgia."
Authorities have dismissed allegations that the January 5 presidential election was rigged.
"The results of the January 5 election are known to the whole world, and the world evaluated the election positively. If a few dozen people don't like it, that's their problem," ruling party MP Vakhtang Balavadze told the paper yesterday.