Saakashvili meets Bush
By Alexander Ward
Thursday, March 20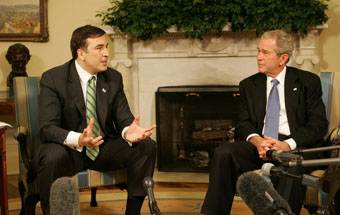 US President George W. Bush said his administration will push for Georgia to receive a NATO Membership Action Plan (MAP) at the Bucharest summit next month after meeting with the Georgian president in Washington yesterday.
Speaking to journalists after the meeting, the US president reaffirmed Washington's position that both Georgia and NATO would benefit if it is invited to join the alliance, adding, "That's a message that I will be taking to Bucharest soon."
In turn, Georgian President Mikheil Saakashvili thanked Bush for "unwavering support" for Georgia's freedom, democracy and territorial sovereignty. "I think this is a very unequivocal support we're getting from you," he said.
A statement from the White House released earlier in the day said among the other issues the two presidents would touch upon was ongoing democratic reform in Georgia, especially in advance of parliamentary elections, slated for late May.
The last time the two presidents met in Washington, in summer 2006, Bush pledged to smoothen the way for Georgia's integration into NATO but added that the country "has got work to do, and the president [Saakashvili] understands that."
Saakashvili's current trip is set against the background of the November 7 civil unrest, when the police clamped down on peaceful protestors in Tbilisi, putting the country's much-touted democratic credentials under international inspection.
An open letter from the NGO Human Rights Watch addressed to President Bush said yesterday's meeting presented an opportunity to "emphasize the importance of justice and accountability" for violence during the civil unrest.
The NGO also repeated its calls for a "comprehensive, independent, and transparent investigation" into the government's use of force.
However, Bush did not comment on November 7 at the press briefing yesterday, focusing instead on praising Georgia's economic growth and contribution to "democracy movements," both within Georgia and in Iraq, where Georgia has troops on the ground.
Saakashvili is trying to shore up international support in Georgia's bid for a MAP, the next stage of integration into NATO, in the run-up to the April summit in Bucharest.
Some European countries have indicated that this is unlikely to happen, with German Chancellor Angela Merkel stating last week that states "entangled in regional conflicts" should not aim for membership in the alliance.