Duma votes on Abkhazia, South Ossetia resolution
By Christina Tashkevich
Friday, March 21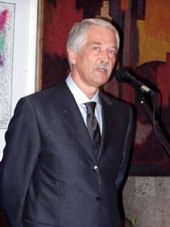 On the eve of a Russian Duma vote on a resolution calling for more support for Georgia's separatist regions, the Georgian parliamentary speaker cautioned Russian MPs to show reason at today's session.
The lower house of the Russian parliament is expected to pass the resolution today, and Duma Speaker Boris Gryzlov has warned the wording will be strong.
"I think the language is categorical enough," he told reporters yesterday, warning that if Georgia enters NATO, Russia would take "appropriate measures."
Georgian Speaker of Parliament Nino Burjanadze responded by saying Georgia would not step off its path toward NATO accession, and cautioned the Russian parliamentarians to approach the issue "reasonably."
The text of the Duma resolution, according to Russian news media, says Georgian NATO accession would require an adjustment of Russian policies toward the secessionist regions.
"According to the opinion of the Duma MPs, in the case of Georgia's potential military aggression toward Abkhazia and South Ossetia or Georgian entry into NATO, it will be necessary to take all measures to protect citizens of the Russian Federation living in Abkhazia and South Ossetia," the resolution says.
Most South Ossetia and Abkhazia residents are thought to hold Russian passports.
"The wording in this resolution is absolutely unacceptable for us," Burjanadze said at a parliament session yesterday, "Where it says that Russia must consider the possibility of our autonomous republics' sovereignty if Georgia becomes closer to NATO, or if [Georgia] takes aggressive steps."
Burjanadze said closer relations between Georgia and NATO should not hinder good relations with Russia.
"There are states, who are NATO members or membership candidates, and countries who are NATO founders, who manage perfectly to have normal relations with Russia," Burjanadze said.
Russian media reported yesterday that the Communists demanded swift and full recognition of Abkhazia and South Ossetia, while MPs from Putin's United Russia proposed a specific timetable for opening Russian "representation offices" in the breakaway regions.
The chair of Georgia's parliamentary foreign relations committee said yesterday that Tbilisi should take the Duma resolution in stride, but at the same time to prepare an "adequate reaction."
Gabashvili said the Duma resolution will allow Georgia to strongly question Russia's role as a mediator in the Abkhazia and South Ossetia conflicts.