70 years later, Georgian prince's perfume lingers
By Shorena Labadze
Friday, March 21
"Great figures are lost without monuments," wrote Georgian scribe Niko Lortkipanidze. One great Georgian figure has fallen close to obscurity, his name written on only the smallest of monuments: delicately designed bottles of a now-rare perfume.
George Matchabeli, born in 1885, was scion of the royal Matchabebli, a noble house in what now roughly overlaps with South Ossetia.
As a young man Matchabeli, who indulged a hobby for perfume making, left for Germany to study mining, later paying his way around the world as a laborer, driver, sailor and courier.
On returning to Germany, Matchabeli met actress Norina Gilli, a renowned Italian beauty. They soon married, and Matchabeli took Italy as a second home. But the roving Georgian never lost his roots.
"Even if one packed George inside a thousand quilts, everyone who approaches will say: 'Here is the smell of Georgia,'" wrote Georgian author Grigol Robakidze.
During the brief years of the independent Democratic Republic of Georgia (1918–1921), Matchabeli was first secretary of the Georgian embassy to Italy. The gregarious Matchabeli established himself firmly in Rome; an obituary said that one could not take a step without meeting a friend of his.
After the Soviet occupation of Georgia, Norina Matchabeli returned to the stage to help save the sinking family finances. She was invited to star in the mimed play "The Miracle" in New York, meeting with enormous success.
In 1922, Matchabeli decided to resettle in America.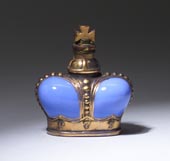 "One who is poor and hungry will not be able to keep his dignity abroad, or to work for his country in politics. That is why I will do my best to gain wealth in the USA, then use it for Georgia's independence," he wrote to a friend.
He wasted little time in pursuing a fortune. Within two years, Matchabeli opened an antiques shop in New York. He also continued to dabble with perfumes, selling his concoctions alongside the aged gewgaws. Customers gravitated toward the scents and he soon realized he had a burgeoning perfume business on his hands.
In 1926, the royal Georgian emigrant founded the Prince Matchabelli Perfume Company. It was a one-man creative endeavor, with Matchabeli manufacturing, producing and even advertising the fragrances. The company swiftly became known for its trademark bottles, designed by Norina to incorporate the Matchabeli crown.
Among the first products were the The Queen of Georgia, Princess Norina and a bath oil called Abano ("bath" in Georgian).
Initially, the bottles were made of German-produced glass. But Grigol Kobakhidze, or "George Kob," was another Georgian emigrant who had found success in the glass industry. Prince Matchabelli's perfumes soon began using George Kob's glass.
Matchabeli's first employees were all fellow exiled aristocrats—one Georgian writer of the time remembered them as the most courteous staff in the United States. They took it upon themselves to decorate, pack and deliver the product. The prince himself was a perfect spokesman for his product. He had a reputation for exquisite manners and refined appearance, ideal for selling perfume to the women of America. Matchabeli became wealthy.
He did not forget why he had resolved to make that money. He financed the independence movement in Georgia, sending smuggled arms aboard German submarines to Georgian fighters.
"Georgia was warm and tender; brave and firm; he loved Georgia to death," his friend Spiridon Kedia wrote. "Not only did he face death directly in the Soviet period, but he managed to stay safe."
Once, in the midst of a Soviet purge, he ferried himself secretly to Georgia and walked carelessly through the streets. According to the memoir of Rezo Gabashvili, acquaintances warned him: If aren't worried about yourself, worry about us. If you are caught, all of us will be hung. He responded: Don't worry, I have a unique luck.
But in spring of 1935, Matchabeli came down with pneumonia while traveling to open new branches of his perfume company. He returned home exhausted, and died within a week at the age of 50.
The Prince Matchabelli perfume line, however, lives on. (Albeit in forms the Georgian royal may not recognize—while one of the first 1924 fragrances was graced with the name Violettes de la Reine de Matchabelli, the line's 1997 scent is dubbed Unruly.)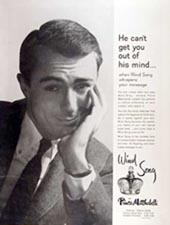 Online reviewers, most of the middle-aged female demographic, rave about the brand's signatures scents.
"[Prince Matchabelli's] Cachet is something I've been wearing for OVER 35 years," one fan gushes. "Every time I spray it on, it reminds me of 1972."
Not the grandest of monuments, but the little crown-shaped bottles continue to remind the curious of a Georgian figure nearly forgotten.