Opposition propose compromise after Ilia II calls for end to hunger strikes
By Ana Datiashvili
Friday, March 21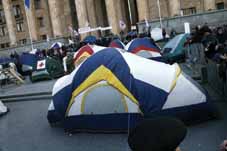 The Patriarch urged opposition campaigners, nearly two weeks into a hunger strike outside parliament, to call off the protest yesterday. Opposition leaders say they will end the hunger strike if the government compromises on electoral reform.
"We see a conflict between the government and the opposition which has moved into a severe phase: that of an endless hunger strike. This is endangering people's lives, which is not a Christian act," said Catholicos-Patriarch of All Georgia Ilia II in an address televised live.
He requested with "paternal love" that the hungers strikers end their protest and return to negotiations, and also urged the authorities to "take steps to ease the confrontation."
"Everybody should remember that to compromise or to make concessions is a feature of strong people, and doesn't signify weakness or retreat," he said.
After the Patriarch's statement, opposition leaders held an impromptu briefing in front of parliament to announce they would personally visit Ilia II to discuss the situation.
Conservative MP Zviad Dzidziguri, a leading member of the eight-party opposition coalition, emphasized that the hunger strike will continue if the government does not compromises.
"I think both sides need to talk with the Patriarch," Dzidziguri said. "He mentioned in his statement that both sides need to be patriotic and must compromise."
Late yesterday evening after meeting with Ilia II, the opposition coalition and the New Rights proposed a new parliamentary electoral system, saying they would end the hunger strike if the government accepts the proposal.
The opposition's system, similar to one they favored in February, would keep parliament at the currently-planned 150 seats, with 75 MPs elected from country-wide party lists and 75 'majoritarian' MPs picked through regional proportional lists.