Hunger strikers issue new demand, go into 'quarantine'
By Eter Tsotniashvili
Monday, March 24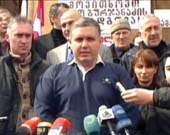 The opposition will end their hunger strike if the government agrees to change the parliamentary electoral system, opposition coalition representatives said on March 20, two days before hunger strikers were put in "quarantine" citing health concerns from weakened immune systems.
Announcing the quarantine, opposition coalition member Bezhan Gunava said President Mikheil Saakashvili and Parliamentary Speaker Nino Burjandandze are personally responsible for the hunger strikers deteriorating condition.
Sopo Jajanashvili, a spokeswoman for Georgia's Way, one of the eight parties in the coalition, said even family members of the hunger strikers will not be permitted access to them while they are quarantined.
"It was really dangerous for them to meet every day with many people and journalists; they don't have the strength to do even this," Jajanashvili said.
Lali Javashvili, an endocrinologist at a state hospital, said she was "glad" the quarantine had been implemented. "This is a period [in a hunger strike] when a person is very weak and even a little virus could be fatal," she added.
A doctor who works for the British national health system, however, questioned the need for quarantine.
"[Anorexics] in the UK who have impaired immune systems from chronic food deprivation, although susceptible to infections…are able to fully function and participate in society without the need of quarantine," the doctor said.
After meeting the Catholicos-Patriarch of All Georgia Ilia II on March 20, the opposition said they are ready to end their hunger strike if the government concedes to a new demand—amendments to the electoral system that would see 75 MPs elected by 'regional proportional lists,' instead of the first-past-the-post 'majoritarian' system.
Earlier in the day the Patriarch called on the opposition to end the hunger strike and enter negotiations with the government.
"We see a conflict between the government and the opposition which has moved into a severe phase: that of an endless hunger strike. This is endangering people's lives, which is not a Christian act," the Patriarch said, adding that the government should also take steps to end the political deadlock.
The government recently pushed through amendments to make 75 MPs elected according to the majoritarian system, with one MP per district, and the remaining 75 elected through a country-wide party list.