Opposition rally for Imedi TV, against wishes of founder's widow
By Eter Tsotniashvili
Tuesday, March 25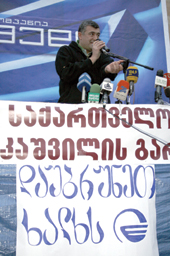 Shortly before an opposition rally in support of Imedi TV yesterday, the widow of the embattled station's founder released a statement saying she did not want Imedi to be "politicized."
"At the insistence of my British lawyers I want to categorically declare it unacceptable to politicize this issue," Ina Gudavadze said, adding that she is determined to return Imedi TV to the air, but by appealing to the courts.
But the fate of the pro-opposition television station, now off-air but once the most widely watched network in the country, is fraught with political consequence. Compounding the situation is uncertainty over the station's ownership, as allegations of fraud and coercion fly across television screens and newsprint.
The opposition, undeterred by the call to let the courts work, rallied in front of parliament with upwards of ten thousand supporters to demand the return of Imedi TV. A joint opposition statement equated the fate of Imedi with the fate of free speech in Georgia.
"We should rescue Imedi and address all international organizations to stand with us and support our legal struggle," reads the statement, signed by the eight-party opposition coalition, the Republicans, the New Rights and opposition-minded NGOs.
"I'm very proud to be standing here in front of you," leading opposition coalition member Levan Gachechiladze told the crowd. "This is not a struggle for free and democratic elections, but for free media."
Imedi TV was forced off-air as riot police cracked down on anti-government protestors on November 7, 2007. The government later allowed it to resume broadcasts in the face of heavy international pressure, but the station voluntarily suspended operations on December 26 after authorities accused its founder, billionaire Badri Patarkatsishvili, of plotting to overthrow the state.
Patarkatsishvili died in February at his English mansion. Initial tests suggested heart failure was to blame.
Yesterday's demonstration came amid allegations that the government is trying to wrest control of Imedi TV, long a bugbear to the Saakashvili administration, with the assistance of a Georgian man calling himself Joseph Kay and purporting to own Imedi TV.
In a March 22 with the pro-government television station Rustavi 2, Kay, also known as Soso Kakiashvili, denied any collusion with the government.
"There were no negotiations with the authorities, or even an attempt from the authorities or anyone else to reach a deal," Kay said by telephone. He said he owned the station after having bought a controlling stake of an Imedi parent company.
Patarkatsishvili's widow alleged on March 19 that the Georgian government is trying to keep Imedi TV off-air.
Kay met on March 22 with Imedi's top management and the local representative of News Corp, the company once thought to have purchased the station from Patarkatsishvili. Imedi director general Bidzina Baratashvili declined to comment after the meeting, saying they "had not seen any documents yet."
Patarkatsishvili's immediate family say they are the legal owners of Imedi.
"I know that [Kay] was Badri's business partner, but he does not have any documents to prove to our family that he owns Badri's property," Patarkatsishvili's sister, oppositional New Rights MP Mzia Tortladze, told Rustavi 2.
Exiled Russian oligarch Boris Berezovsky, a long-time business partner of Patarkatsishvili, claimed that Kay is a swindler trying to defraud Patarkatsishvili's legal heirs.
He told Rustavi 2 that the day after Patarkatsishvili's death, Kay came to Patarkatsishvili's mansion in England accompanied by a lawyer named Emanuel Zeltser to present documents declaring the billionaire's property under his management. Berezovsky said the documents were forged.
Zeltser, the lawyer, was arrested earlier this month in Belarus. Kay claims Berezovsky arranged the arrest. Meanwhile Salford Georgia, the investment firm which handled Patarkatsishvili's Georgian business assets, announced they are cutting all legal and financial ties with the Imedi media group.