GPB candidates demand transparent selection
By Shorena Labadze
Tuesday, March 25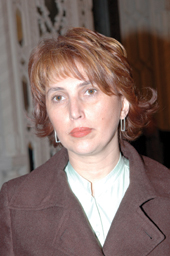 Five candidates for the position of director general of the Georgian Public Broadcaster (GPB) called yesterday on the board of directors to televise the selection process to ensure transparency.
They underlined that the GPB should be apolitical and serve the public interest, and requested television debates between the contenders, the board of directors and media experts.
They also called on the other 27 other candidates to back them.
"The only goal for personally me is that the selection is transparent. I would say that our suggestions are not really demands because I am not threatening to do anything if the board of directors turns them down," candidate Ia Antadze, a prominent journalist who has been tipped for the post, told the Messenger.
"The broadcasting [of the selection process] must begin from today. It must be daily, on the TV and the radio. This will help the board make the right decision and will allow society to see clearly how everything is going," candidate Lasha Bakradze stated.
Another candidate, Zviad Koridze, demanded the public released of criteria by which the board of directors will narrow down contenders.
Board member Marina Vekua said while some television debates would go ahead, the entire selection process would not be broadcast.
"We have made concessions by suggesting televised debates between the candidates. As for the selection process, that will be behind closed doors, we can't make it public," she said.
The resignation of the current head of the GPB, Tamar Kintsurashvili, was one of the 17 demands submitted by the opposition to the government for a political dialogue to resume. A recently approved GPB board of trustees—picked with government and opposition agreement—must select Kintsurashvili's replacement by April 4.