Imedi expected back on-air in April
By Eter Tsotniashvili
Thursday, March 27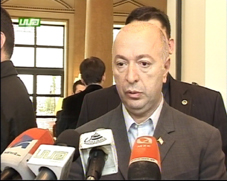 Imedi TV could resume broadcasts early next month, station management told reporters after meeting with the network's putative new owner yesterday.
Imedi director general Bidzina Baratashvili suggested the station would begin with test broadcasts, then transition into a full schedule over the course of a week.
"It takes time to renew the news programs and talk shows and find anchors," Baratashvili said at a lengthy press conference. Imedi staff presented a joint statement to the station's apparent new owner demanding editorial independence, he added.
Joseph Kay, the man presenting himself as the station's new owner, said the channel will be neither pro-opposition nor pro-government when it returns to the airwaves, and that he will not involve himself with its internal affairs.
Kay, also known as Soso Kakiashvili, has terminated a management contract with News Corp, business partner of deceased Imedi founder Badri Patarkatsishvili. News Corp suggests it will contest the decision; F. Lewis Robertson, News Corp's representative in Georgia, is in Istanbul for legal consultations.
Kay alleged that News Corp is linked to exiled Russian oligarch Boris Berezovsky, a close associate of the late Patarkatsishvili.
"News Corp is Berezovsky for me, and there is no place for Berezovsky here," Kay told reporters yesterday.
Berezovsky has accused Kay of attempting to fraudulently wrest control of Patarkatsishvili's assets, including Imedi. Kay alleges that Berezovsky arranged the arrest of an associate, lawyer Emanuel Zeltser, in Belarus.
Berezovsky, speaking to the Georgian Public Broadcaster yesterday, categorically denied any business connections with News Corp. In a separate statement, he said Kay was a fraudster working in tandem with "criminals" in the Georgian government to take control of Imedi TV, at one point the country's most-watched station.
The government raided and ransacked Imedi TV during the crackdown on anti-government protests on November 7, 2007. It later reopened, but voluntarily suspended broadcasts at the end of December when Patarkatsishvili, a billionaire who ran against incumbent Mikheil Saakashvili for president before dying of an apparent heart attack in February, was accused of plotting to overthrow the state.
"Imedi has recently become the main target of the political dirt which characterizes election campaigns. We want to confirm that every one of us, and our families, has become targets of pressure and blackmailing from government representatives in the last month," said Giorgi Targamadze, then Imedi's political news director, on December 26. "Until the troubled political situation calms down, until the network's legal status regarding ownership is sorted out, we will temporarily stop broadcasting."
The station has been off-air since then, and there were suggestions that it could be stripped of its broadcast license entirely. The Georgian National Communications Commission can, at its discretion, revoke a broadcast license if the holder goes three months without broadcasting.
Yesterday GNCC chief Giorgi Arveladze said the commission would not revoke Imedi's license.
"Despite [three months having passed without broadcasts] I want to assure you that the GNCC does not plan to [revoke the license]. Our wish is to understand what is going on regarding Imedi's ownership and to [see the station] resume broadcasts," Arveladze said at a press briefing.