Georgian officials visit NATO headquarters to push membership bid
By Davit Lobjanidze
Thursday, March 27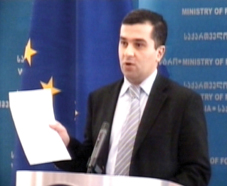 Georgia's top foreign affairs officials were in Brussels yesterday to lobby NATO for a membership nod at the military alliance's upcoming summit in Bucharest.
"We will hold meetings with the ambassadors of member countries and also those who are skeptical about Georgia advancing to a Membership Action Plan," said Foreign Minister Davit Bakradze, who was accompanied by State Minister for Euro-Atlantic Integration Giorgi Baramidze.
Both Georgia and Ukraine are vying for a Membership Action Plan (MAP) from NATO, but all 26 member countries of NATO must reach a consensus on allowing them to advance to the next level of the accession process.
The
Financial Times
reported on March 14 that at least six NATO members oppose a MAP for Georgia and Ukraine.
Yet officials remain publicly optimistic within Georgia. Baramidze, speaking to reporters before leaving for Brussels, said: "The reforms required for this stage of integration to NATO were conducted successfully in Georgia."
Baramidze said the Georgian government accomplished everything NATO assigned to it; now, he said, the problem is finding a political consensus amongst NATO member states.
Speaking in Brussels, Foreign Minister Davit Bakradze acknowledged the difficulty of the task.
"Of course I cannot be confident, because it is a political decision of all 26 member states," he told journalists. "But I do hope this decision will be positive."
Last week, President Mikheil Saakashvili suggested to the Washington Post that denying Georgia a MAP in Bucharest would intensify conflict in the South Caucasus.
"Russia will be emboldened," he said. "They will conclude that they are on the right track when they stir up trouble with us."
Saakashvili rejected the idea that Georgia could accept a token reward, somewhere short of a MAP, for its efforts.
Speaking from Brussels yesterday, Bakradze said a "'no' in Bucharest will be very clearly seen…in Moscow that they have indirect veto rights on NATO decisions."
Bakradze says the Georgian delegation will meet with the NATO secretary-general, as well as ambassadors of NATO member states.
According to the NATO press office, Georgian progress in implementing its Individual Partnership Action Plan, the country's current level of cooperation with the Alliance, will be discussed during the visit.
The two-day visit to Brussels will be followed in a week by the April 2–4 Bucharest summit, where the decision on a MAP for Georgia and Ukraine will be announced.