PM: 2008 investments worth half a billion dollars
By M. Alkhazashvili
(Translated by Diana Dundua)
Monday, March 31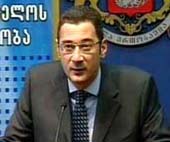 Foreign investment in Georgia so far this year totals USD 500 million, Prime Minister Lado Gurgenidze said on March 27.
Gurgenidze said investment was mostly in the banking, construction and transport sectors, with USD 200 million invested into the banking sector. He said the countries' rural regions are benefiting from the influx along with Tbilisi, and emphasized the attractiveness of stability.
"To maintain the current inflow of investments it is important that we establish stability and a peaceful environment in Georgia… The implementation of successful reforms should continue in Georgia," the newspaper
Rezonansi
quoted Gurgenidze as saying.