On birthday of Georgia's first president, comparisons with its third
By Shorena Labadze
Monday, March 31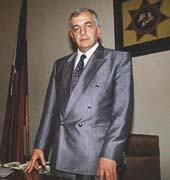 Georgia's first president, Zviad Gamsakhurdia, would turn 69 today.
A Culture Ministry representative said they were unaware of any events scheduled to mark the occasion.
Zviad Gamsakhurdia was the son of great Georgian writer Konstantin Gamsakhurdia. Zviad also established himself as a literary figure, and turned his writing talents to dissident activities during Soviet rule.
Gamsakhurdia was a leader of the Georgian independence movement, arrested several times and exiled before returning to organize the independence campaign in the waning years of the Soviet Union.
He was elected the first president of Georgia on May 26, 1991 with close to 90 percent of the vote.
But his administration swiftly faced fierce and violent resistance. His opponents accused him of being a demagogue and totalitarian, while he lambasted enemies for sabotage and betrayal. Soon the army had split, and fighting broke out in central Tbilisi.
By January 1992, Gamsakhurdia's government fell.
Georgia's toppled president fled, but soon returned to western Georgia where his supporters prepared to march on Tbilisi. After initial success, the campaign collapsed, and on December 31, 1993, Gamsakhurdia died by a gunshot to the head. Whether his death was a suicide or a killing is officially unknown.
His legacy is acute but mixed.
"The independence of Georgia is tied to his name," says political analyst Gia Khukhashvili.
But the dissident failed as a president, Khukhashvili continues. "[His methods of rule] divided society and led us to civil war."
In March 2007, Gamsakhurdia's remains were repatriated from Chechnya. As the procession drove toward Tbilisi, where he was placed to rest in the Mtatsminda Pantheon, people across Georgian came out into the streets with lit candles to pay their respects.
"Despite being a weak politician, he is beloved by the Georgian people for his failed but sincere attempts to revive Georgia," Mtskheta resident Marita Mosulishvili says. Local political analyst Ramaz Sakvarelidze acknowledges the enduring popularity of Gamsakhurdia. So have today's leadership, he says.
After coming to power in the 2003 Rose Revolution, President Mikheil Saakashvili courted the "Zviadists," establishing ties with some former Gamsakhurdia allies and lavishing attention on the Gamsakhurdia's one-time stronghold of Zugdidi.
Sakvarelidze said parallels could be made between criticisms facing the first and third Georgian presidents.
Gamsakhurdia's opponents accused the former Soviet dissident of holding a hidden agenda on Russia, the analyst said, secretly playing in their favour.
"Today, opposition figures accuse Saakashvili of being pro-European in word alone, letting Russian businesses assimilate the Georgian market," Sakvarelidze commented. "But Saakashvili turned out to be more dynamic and firm, with unassailable demands and no compromises. Unlike Gamsakhurdia, he was able to maintain his post."