Countrywide Labor campaign could spell trouble for opposition
By Ana Datiashvili
Wednesday, April 2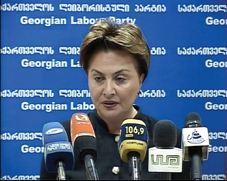 The countryís opposition could face an uphill struggle in the May elections, after at least one significant party suggested it would compete against other opposition groups for seats in parliament.
The populist Labor Party, whose leader won about 6.5 percent in the January presidential election, announced on March 31 that at least four party leaders would run for majoritarian seats, and suggested they would field a candidate in each of the 75 districts up for grabs.
Labor member Nestan Kirtadze confirmed that her party plans to nominate 75 candidates, but implied there could still be compromises with the handful of other opposition parties expected to mount serious campaign bids.
Kirtadze told the
Messenger
she decided to base her own candidacy in the city of Kutaisi, rather than the Tbilisi district of Vake, to avoid competing against former joint opposition presidential candidate Levan Gachechiladze.
The opposition, whose presidential candidates together took just under half the vote in the January presidential election, face coordination challenges for the May 21 parliamentary elections.
Half of parliament will be elected proportionally through nation-wide party lists. The other half will be fought out in first-past-the-post voting in 75 individual districts.
A candidate ahead of all others wins outright if he has at least 30 percent of the vote. With voters largely divided into pro- and anti-government blocs, the opposition risk losing in otherwise friendly territory if they split the vote between multiple candidates.
Davit Berdzenishvili, a leader of the moderate Republicans, said his party is awaiting a decision from the eight-party opposition coalition on how many candidates they will run, and where, before finalizing their own plans.
The Republicans split from the coalition last month, saying the two groups would still coordinate their efforts.
Opposition coalition leaders declined to comment on Laborís announcement or their own plans.