Georgia's membership chances bleak as NATO summit opens
By Alexander Ward
Wednesday, April 2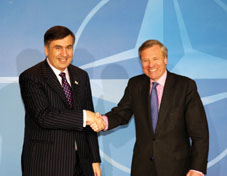 As the NATO summit gets underway in Bucharest today, Georgia's odds of entering the next stage of integration into the alliance look bleak as both Germany and France indicate they would veto such a decision.
Meanwhile Tbilisi said it would continue to pursue its NATO ambition even if Georgia does not receive a Membership Action Plan (MAP) this week, although officials said this would represent a victory for Russia.
Both France and Germany cited concerns that giving Georgia and Ukraine a MAP would strain Europe's relations with Moscow.
"France will not give its green light to the entry of Ukraine and Georgia," French Prime Minister Francois Fillon said yesterday.
"We are opposed to the entry of Georgia and Ukraine because we think it is not the right response to the balance of power in Europe and between Europe and Russia, and we want to have a dialogue on this subject with Russia," he added.
On March 31 a spokesperson for German Chancellor Angela Merkel said that domestic conditions in Georgia and Ukraine rendered them "not yet ripe" for MAP status, adding that "Russia's legitimate security concerns" had to be taken into account, according to the Financial Times.
He also dismissed Tbilisi's characterization of the alliance's consideration of Russian interests amounting to a Russian veto.
Last week Russian president-elect Dmitry Medvedev said that Georgian and Ukrainian accession to NATO would be "extremely troublesome for the existing structure of European security."
Also on March 31 Foreign Minister Davit Bakradze said Georgia would "continue the struggle" for NATO membership if it does not receive a MAP at Bucharest, but added that being denied a MAP would encourage Russian aggression in the country's separatist regions.
"Everyone must understand that Russia will count us not getting a MAP as its own success, prompting it to implement a more aggressive policy in Abkhazia," he told television station Rustavi 2.
Bakradze also claimed that NATO member states "no longer doubt" that Georgia should join the alliance and that statements of concern about Georgia's internal situation from European leaders are just a pretext. "The real reason is that they do not want to anger Russia," he said.
Meanwhile US President George W. Bush, who arrived in Kiev on March 31 to underline US support for Ukraine's NATO bid, reiterated that he would push for Georgia and Ukraine to receive MAPs at the summit.
"My country's position is clear: NATO should welcome Georgia and Ukraine into the Membership Action Plan," Reuters quoted Bush as saying.
Political expert Archil Gegeshidze, of the Georgian Foundation for Strategic and International Studies think tank, says that the public seems "more or less ready" to accept both possible outcomes of the summit.
He also said if Georgia fails to get a MAP this time around not only will its NATO bid remain "sustainable," but that it may push the government to ensure free and fair elections next month, improving the country's development of democracy.
President Mikheil Saakashvili and a number of other government officials arrived in Bucharest yesterday where they will participate in events on the sideline of the conference.