Imedi TV's return delayed by debts, legal challenges
By Shorena Labadze and Winston Featherly
Thursday, April 3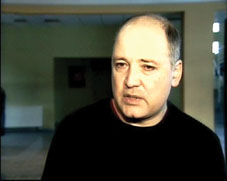 Imedi TV, off-air for more than three months, is enveloped in an ownership dispute between the family of its deceased founder and a self-declared heir.
The channel was expected to restart preliminary broadcasts yesterday, but did not.
Station director general Bidzina Baratashvili said in an interview with the newspaper
Rezonansi
that the station is still off-air because of financial problems.
"…We owe money to [satellite operator] Eurasiasat and cannot go back on air until we pay the debt. We also have debts with other organizations," Baratashvili said in the interview, published April 2. He also cited technical problems, including a broken TV tower.
According to Rezonansi, the debts stand at about USD 2.3 million.
Baratashvili said the television channel's putative new owner, Joseph Kay, is seeing to the debts.
The station director suggested broadcasts could restart on April 7, with full programming coming a week later.
But even if the station's technical problems are solved, legal turbulence around Imedi continues.
Yesterday, the family of station founder Badri Patarkatsishvili said they will legally contest Kay's claim of station ownership.
"We absolutely refuse to accept the power of attorney of Joseph Kay and his thugs," the family's statement said. The family claimed that Kay, also known as Ioseb Kakiashvili, has not shown any documents to support his claim to management rights for Patarkatsishvili's assets.
And News Corp, which as Patarkatsishvili's business partner had stakes in Imedi, has suggested it could also challenge Kay, who ended Imedi's contract with the international media company.
With elections approaching and the remaining major TV stations accused of toeing a pro-government line, Imedi TV's fate is closely watched.
Opposition politicians have accused Kay, who has promised not to interfere in editorial decisions at Imedi, of being in league with the government.
Conservative MP Kakha Kukava, a leader of the eight-party opposition coalition, worries that Imedi, once friendly to the opposition, will not be the same station when it returns to the air.
"…Given the political pressure from the government and the current owner's political trends—as he plays the government's game—of course it's impossible for the station to maintain its sharp and radical character and its transparency," Kukava said.
Imedi was once the most-watched station in Georgia, where most get their news from television. Some say they continue to miss its absence.
"My heart sinks when I turn to the Imedi TV channel by accident and see only colored lines," said 22-year-old Chiatura resident Eka Tkhemaladze. "This TV company has symbolic meaning for the Georgian nation."
The government raided and ransacked Imedi TV during the crackdown on anti-government protests on November 7, 2007.
It later reopened, but voluntarily suspended broadcasts at the end of December when Patarkatsishvili, a billionaire who ran against incumbent Mikheil Saakashvili for president, was accused of plotting to overthrow the state. Patarkatsishvili died of an apparent heart attack at his English mansion in February.