Georgia awaits NATO decision at Bucharest summit
By Alexander Ward
Thursday, April 3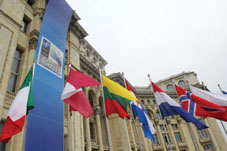 This afternoon NATO is expected to complete deliberations on Georgia and Ukraine's membership bids.
But a Membership Action Plan (MAP), the next stage of integration into the alliance which Tbilisi has vigorously campaigned for, is unlikely to be on the cards at this week's Bucharest summit.
Before departing for the "extremely important and historic summit" on April 1, President Mikheil Saakashvili said that while its exact outcome was unknown there would be "an important declaration that Georgia is successfully progressing towards NATO."
NATO Secretary General Jaap de Hoop Scheffer, speaking to the Romanian newspaper
Romania Libera
, seemed to imply a MAP was unlikely, emphasizing it requires consensus from all 26 member states. However, he repeated that the "door of the alliance is still open."
"For me, the issue is not whether Georgia may benefit from a Membership Action Plan but when it will happen," he said.
Italy joined Germany and France in publicly opposing issuing MAPs to Georgia and Ukraine this week.
"We must not shut the door in Ukraine's and Georgia's faces, but this process must be conducted with gradualness," Italian newspaper
La Repubblica
quoted Italian Foreign Minister Massimo D'Alema as saying.
In the days leading up to the summit Tbilisi warned Europe not to bow to Russian pressure, but German Foreign Minister Frank-Walter Steinmeier denied that Moscow's position was the main reason for his government's opposition to giving Georgia a MAP.
He said the recent, tumultuous presidential election in Georgia showed "the country is not yet on an assuredly stable course." However, he also said that following the dispute over Kosovo's declaration of independence there was "no compelling reason [to] exert a further strain [on Russian relations]."
In an interview published yesterday, Foreign Minister Davit Bakradze trumpeted Georgia's contribution to NATO peacekeeping operations and highlighted its importance as part of an energy corridor from Central Asia to Europe that bypasses Russia.
"If Georgia is not part of the NATO system, the security of the Black Sea cannot be guaranteed," Bakradze told Spanish newspaper
El Pais
.
The Foreign Minister added that Georgia is ready for MAP, and that "there is no alternative."
Meanwhile both Russia and the de facto authorities of breakaway Abkhazia reiterated earlier statements of opposition to Georgia's membership bid.
In a letter addressed to the NATO secretary general, Abkhaz separatist leader Sergey Bagapsh urged the alliance to consider "the opinion of all interested sides," and warned that the summit could "create serious problems in the Caucasus."
Russian Foreign Minister Sergey Lavrov said that Moscow would respond "pragmatically" to Georgia's NATO bid, adding, "I can say that we are ready for all possible scenarios."