Lawyers go on strike, demanding court reforms
By Shorena Labadze
Monday, April 7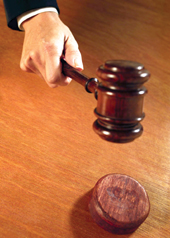 Thousands of lawyers plan to go on strike today, some demonstrating in front of Tbilisi courts to demand independent and fair court proceedings.
They are calling for legal amendments to allow the media greater access to court proceedings as well as a mechanism to better guarantee defendants' rights of appeal.
Malkhaz Jangirashvili, a lawyer who has been on hunger strike for 28 days, said he will suspend his hunger strike to join demonstrators outside the courts today. Organizers say they expect about 3000 lawyers to go on a three-day strike.
Last week, a number of lawyers began consecutive one-day hunger strikes in support of Jangirashvili.
"Lawyers will take turns to hunger strike for 24 hours at a time as a symbolic gesture. This will continue until our demands are met," said lawyer Gela Nikolaishvili, of the Georgian Association of Attorneys.
They also called on Georgians to sign a petition of support, and say that after they have collected 30 000 they will present it to parliament.
The lawyers want to see the establishment of a commission headed by Human Rights Ombudsman Sozar Subari to investigate cases where the defendant disputes the final verdict.
"Currently, the court allows defendants to appeal a verdict if there are 'newly-found circumstances,' but it is only a formality—in reality the Prosecutor General's Office always rules it out," Nikolaishvili last week.
However, Subari has himself ruled out the idea, deeming it "physically impossible."
"It would be impossible as it means formation of a parallel court. All the pressure would come on these commissions and it's physically impossible," he told the paper, adding that he does support some of the lawyers' other demands.
"It is not news that we don't have an impartial court. I agree to the demand for media access during the court processes…Today the court is controlled but not by society but the Prosecutor General's Office," he said.
Some human rights NGOs have expressed support for the cause, with Nana Kakabadze, head of the organization Former Political Prisoners for Human Rights, describing the court system as "in a bad way."