Saakashvili administration claims victory in Bucharest summit
By Temuri Kiguradze
Monday, April 7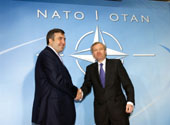 In the days after the NATO summit in Bucharest, where Georgia had hoped to receive a Membership Action Plan (MAP) for accession to the alliance, the government has claimed victory over Russia in a NATO statement promising eventual membership for Georgia.
"The NATO summit gave us the political and legislative guarantee of membership. No other country has ever achieved that," said President Mikheil Saakashvili in an interview with television station Rustavi 2. "MAP is not a political question, it is just a technical question now."
Saakashvili said the NATO statement affirming that "[Georgia and Ukraine] will become members of NATO" is worth more than a MAP, which he said, pointing to Macedonia's 11-year wait for full membership, was not an actual guarantee of NATO accession.
Opposition leaders largely painted the summit as a disappointment for Georgia, and blamed the government.
"If the Georgia government doesn't start developing democracy in the country, NATO's door will always be closed for us," New Rights MP Manana Nachkebia told 24 Saati. "The reason for the failure is the lack of democracy in the country."
The NATO secretary general said a council of foreign ministers will review Georgia's application in December; among other things, they will look for free and fair parliamentary elections here in May, he said.
In his Rustavi 2 interview, Saakashvili said his government requested the mention of parliamentary elections.
He also suggested that Russia was the sole reason Georgia did not get a MAP.
Tbilisi-based media analyst John Horan said local television stations, the prime source of news for most Georgians, gave "generous coverage" to government assertions that "Russia was in fact behind the decision not to grant [a] MAP and simultaneously, the fact that Russia was unhappy with the overall result."
The little-read Georgian print media was more critical.
Akhali Taoba ran an article headlined "the West denied Saakashvili," and quoted Labor Party leader Shalva Natelashvili blaming both the government's domestic policy and Moscow's interference for the lack of a MAP at Bucharest.
Alia interviewed political analyst Gubaz Sanikidze, who said "Saakashvili failed in doing his political homework and got the corresponding result in Bucharest. Now [Saakashvili] states that it is good that we didn't get a MAP, because we will enter NATO in December directly. Anyone who believes Saakashvili should go and see a psychiatrist."
Many voters seemed optimistic about the summit, but skeptical of the president's version of events.
"I don't believe Saakashvili or a word he says," 65-year-old Tbilisi resident Levani said, "But still I think that we will enter NATO sooner or later."
Mamuka, a 40-year-old Tbilisi citizen, said the summit was "a move forward" if not as positive as officials say.