Georgia behind Azerbaijan and Armenia in GDP growth
By M. Alkhazashvili
(Translated by Diana Dundua)
Thursday, April 10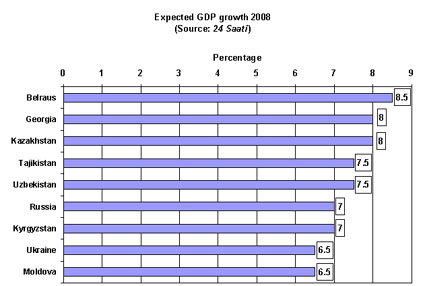 Georgia is lagging behind its South Caucasian neighbors in terms of GDP growth, local media reports.
Research undertaken by the Commonwealth of Independent States (CIS) statistics committee shows that this year Georgia's GDP growth is expected to be eight percent, significantly lower than the same figures for Azerbaijan and Armenia, at 16–18 percent and 10–11 percent respectively, according to the newspaper
24 Saati
. However, Georgia's expected eight percent is amongst the highest for other CIS states.