Saakashvili pushes Abkhazia proposals
By Eter Tsotniashvili
Monday, April 14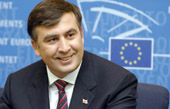 On April 12 President Mikheil Saakashvili offered more proposals for conflict settlement in Georgia's breakaway regions, all of which were swiftly rejected by separatist leadership.
Saakashvili ordered the Economic Development Ministry to create a plan for a free economic zone over southern portions of breakaway Abkhazia, a proposal he first publicly put forward last month.
The president also asked his ministers to develop a comprehensive conflict resolution package.
Saakashvili reiterated the Georgian government's offer of "unlimited autonomy" for Abkhazia within Georgia, offered in March along with the free economic zone and top executive posts in the Georgian government.
At the time, Abkhaz separatist leadership spurned the proposals as empty offers meant to please Western capitals ahead of a NATO summit. Sokhumi also rejected Saakashvili's resubmission of the plan.
"We have already expressed what we think about this issue. These are unacceptable for us," said de facto Abkhaz president Sergey Bagapsh told the Russian news agency Interfax yesterday. "Any issues connected with danger to the independence of Abkhazia will never be under discussion."
The Saakashvili administration also proposed handing over security in parts of the breakaway region to a joint Abkhaz-Georgian police force.
The Georgian state minister for reintegration issues said the current Russian-led peacekeeping force serves only to maintain the status quo.
Russian MP Konstantin Zatulin, a top member of the Duma committee for CIS affairs, told Russian radio station Ekho Moskvy that Tbilisi's new conflict resolution proposals are tailored to further Georgia's bid for NATO membership. The Abkhaz do not trust Saakashvili, he added.
A group of NATO member states' foreign ministers are to consider inviting Georgia closer to the alliance in December.
Saakashvili also pitched plans for separatist South Ossetia over the weekend, ordering the Economic Development Ministry to set aside money to buy up harvests from local farmers, including those in separatist-controlled territory. He also offered to sponsor international scholarships for the top ten students in the de facto South Ossetian separatist capital of Tskhinvali.
South Ossetia's de facto president, Eduard Kokoity, dismissed Saakashvili's proposals as "irrelevant and poorly-timed." Kokoity said Tbilisi should instead agree to a non-resumption of violence pact.