Who loves Love Day?
By Shorena Labadze
Tuesday, April 15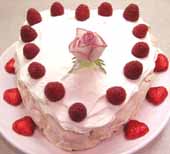 Today Georgia marks a homegrown version of Valentine's Day called
Sikvarulis Dghe
, or Love Day. The intent of the day is clear enough, and its origins are undistinguished but appropriate.
Beso Chubinidze, publisher of a celebrity tabloid called
Varskvlavebi
, concocted the holiday in the 1990s to placate a fuming significant other.
"Once when my sweetheart and I argued, I told her I would dedicate something to her that all of Georgia would learn about. And I kept the promise. April 15 is my birthday and I dedicated it to my wife," Chubinidze said.
The holiday was first celebrated in 1995. Since then, couples have taken the opportunity to go for a stroll hand-in-hand or catch one of the occasional concerts or other events on the day.
Chubinidze says parliament adopted the day into law after he and his colleagues put together a presentation on their invented holiday.
"This day always gives rise to pleasant emotions, and I feel like something new will happen," said 21-year-old bank worker Nino Soziashvili, who is single. "Every year I greet this day with the hope that it will apply to me next year."
But not everyone is as chipper. Chubinidze acknowledges that some criticize the ad hoc holiday as narcissistic, superfluous or just generally irksome, but insists he's just making the world a more pleasant place once a year.
"Some Georgian people are aggressive towards me and this day," he says. "Why shouldn't we have another love day? I created a day of love and not of hatred, didn't I?"
Georgians also celebrate Valentine's Day on February 14, although some Orthodox devout frown on the holiday's Catholic origins.
Flower vendors, unsurprisingly, embrace both holidays.
"We eagerly await this day, as flower sales are very significant," said one shop assistant in Tbilisi's Vake district. "Generally, this is a day when people aren't frugal."