President inaugurates Poti port project
By Christina Tashkevich
Wednesday, April 16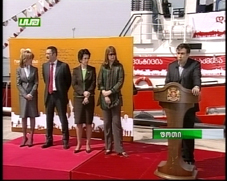 Pledging to turn Poti into a "second Dubai," President Mikheil Saakashvili inaugurated the creation of a free economic zone and the reconstruction of Poti port yesterday.
"This is our country's golden [beginning]," Saakashvili said, signing a document at a ceremony in the Black Sea port town.
The government chose UAE's Ras Al-Khaimah (RAK), an investment fund for the emirate of the same name, to develop a Poti free economic zone in a 49-year management concession, and to construct and manage a new Poti port terminal.
"We have spent several months choosing a necessary, competitive partner to manage the Poti free industrial zone," Prime Minister Lado Gurgenidze said yesterday.
Twelve companies, including UK's Hutchison Westports and French shipping company CMA CGM, competed in the tender to develop the free economic zone.
RAK, which operates a major Gulf region free trade zone, owns 51 percent of Poti port shares. The rest of the shares are owned by the government.
RAK is obliged to spend USD 200 million on building the free economic zone over the next three years. The company will renovate the port with a new cargo terminal.
The company plans to invest up to USD 1.5 billion into the project.
The government expects to employ 16 000 to 22 000 people at the Poti free economic zone, and predicts an inflow of USD 1 billion into the region.
Some analysts worry the free economic zone could come with baggage, including increased money laundering.
"It's almost impossible to fight with money laundering in free economic zones," said an analyst for Caucasus issues, Mamuka Areshidze.