Abkhazia, South Ossetia look for greater diplomatic ties
By Eter Tsotniashvili

Wednesday, April 16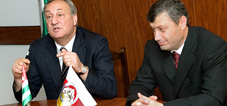 A Russian newspaper is reporting that Moscow will strengthen diplomatic ties with Georgia's separatist regions, as their leaders opened the first embassy between the two self-declared republics.
The widely-read
Nezavisimaya Gazeta
quotes an anonymous source who says Russian President Vladimir Putin is ready to give the green light for Moscow to increase diplomatic links with Georgia's breakaway Abkhazia and South Ossetia.
"There is no talk about opening consulates, but Russian diplomats will work in Abkhazia and South Ossetia to defend Russians' rights in the regions," an unnamed Russian official told the newspaper.
The report comes as South Ossetia opened an embassy in Abkhazia yesterday. The de facto presidents of both regions gathered for the ceremony.
Abkhaz separatist leader Sergey Bagapsh called the embassy, a first for both breakaway regions, an "important step." He accused Georgia of upgrading its military forces to prepare for war against Abkhazia and South Ossetia.
Eduard Kokoity, the de facto South Ossetian president, said both unrecognized republics have the common task of winning international recognition of their independence.
Tbilisi is warning against increasing diplomatic links with the breakaway regions. Chair of the parliamentary foreign relations committee Kote Gabashvili said that if Putin does take this step, he will be directing his successor and his political party to maintain a course of confrontation with Georgia and Western countries.
"It wouldn't mean that Russia recognizes their independence [Abkhazia and South Ossetia], but it is another serious mistake by Russia when they express aggression over Abkhazia. It means their role as a mediator is weakening," Gabashvili said.
Caucasus analyst Alan Kasaev told the Rusian news agency RIA Novosti that Putin would more likely postpone the issue until this fall, rather than signing a confrontational decree in the last month of his presidency.
"If this decree is issued before the parliamentary elections in Georgia, this will very much harm the opposition's chances to win the elections—from this point of view the moment is chosen wrongly," Kasaev said.