Russia pulls closer to Abkhazia, South Ossetia
By Alexander Ward

Thursday, April 17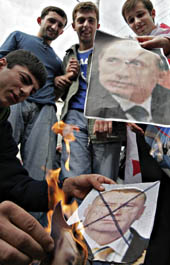 Moscow's decision to increase ties with Abkhazia and South Ossetia drew strong reproach from Tbilisi and the international community yesterday.
A statement released by the Russian Foreign Ministry said President Vladimir Putin has instructed the government to "interact with the actual bodies of power" of Georgia's breakaway regions, and foster ties in trade and other sectors.
Foreign Minister Davit Bakradze branded it "an attempt to legalize annexation of Georgia's two regions," saying it is "against all the norms of international law."
Kote Gabashvili, who chairs the parliamentary foreign relations committee, said Russia's move has created a "very dangerous situation." The government will now work "all diplomatic and political possibilities" to prevent the process, he said.
In Brussels, NATO secretary general Jaap de Hoop Scheffer said he was "deeply concerned" with Russia's actions.
"I urge the Russian Federation to reverse these measures, and call on the Georgian authorities to continue to show restraint," the news agency Reuters quoted him as saying.
The Russian statement says the decision does "Russia has made its choice in favor of a confrontation with Georgia," but that the "chief motive" of the move is to improve the quality of life of the locals.
Russian Ambassador to Georgia Vyacheslav Kovalenko said the intent was to set up a "common economic space" in the region.
De facto Abkhaz foreign minister Sergey Shamba described it as a "breakthrough" for the region's development, adding that it puts Abkhazia at the "final step" before independence.
"We want to develop trade and economic relations in the region in order to raise people's living standards," he told journalists yesterday.
On April 15, Washington expressed concern at reports that Moscow planned to increase ties with Abkhazia and South Ossetia.
"We urge Russia not to follow this path, which would undercut Russia's stated support for the principles of Georgian sovereignty and territorial integrity," US ambassador to the UN Zalmay Khalilzad told journalists.
After Western recognition of Kosovo in February, Moscow said it would review its policy towards separatist states elsewhere. The following month it pulled out of a treaty that enforced sanctions on Abkhazia, saying the situation had "dramatically changed."
In the run-up to the NATO Bucharest summit earlier this month, Tbilisi warned that if Georgia was not invited to the next stage of integration into the alliance Russia would be emboldened to interfere in Georgia's separatist regions. Georgia did not receive its hoped-for invitation, but was promised eventual membership in a statement of support from the alliance.