Tbilisi rejects Russian move to lift Georgian embargo
By Winston Featherly
Monday, April 21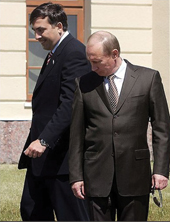 Two days after instructing his government to increase links with Georgia's separatist regions, Russian President Vladimir Putin began moves on April 18 to lift a longstanding blanket trade embargo on Georgia.
But Tbilisi officials, who decried Russia's plan to bolster ties with breakaway Abkhazia and South Ossetia as "de facto annexation," dismissed the overture as a sweetener meant to smooth international acceptance of Russia's policies toward Georgia.
Foreign Minister Davit Bakradze, who left for Washington yesterday to meet with US officials over the issue, rejected any trade talks, saying Moscow must first reverse its move to legalize ties with Georgia's breakaway regions.
"Nothing can remedy the annexation of our territory," Deputy Foreign Minister Giga Bokeria told the Messenger.
The Russian government was instructed to resume postal links, cancel visa restrictions and begin reopening its markets to Georgian goods, according to a Russian Foreign Ministry statement released April 18, as well as "speed up…repair works" on the only Georgian-Russian border crossing not in separatist-controlled territory, closed since summer 2006.
The Russian Foreign Ministry said the move to end the embargo on Georgia was "following [a] consistent line aimed at lifting all restrictions that hamper social and economic development in the region." Russia withdrew from a CIS treaty imposing trade sanctions on Abkhazia in March.
Moscow imposed the blanket trade embargo on Georgia in stages over 2006, as Georgian-Russian relations deteriorated.
The sudden suggestion of the embargo's end came two days after President Putin ordered his government to deepen and formalize ties with separatist South Ossetia and Abkhazia.
Tbilisi fiercely condemned the step, which Russia says was taken to improve social conditions in the breakaway territories.
Some local businessmen were skeptical of Moscow's follow-through in lifting the sanctions on Georgia.
Soso Gioshvili, the owner of Alaverdi, once a major exporter of wine to Russia, said his company is not holding out hope of returning its bottles to Russian shelves.
"I don't see any serious step made by the Russian side that will make me think Georgian wine and other products will be back on the Russian market," Gioshvili said yesterday. "Putin's statement means nothing for my business."
Fady Asly, chair of the International Chamber of Commerce-Georgia and an investor in the Messenger, said his organization welcomed Moscow's move to lift sanctions, but hopes "the instructions of President Putin are not a 'morphine injection' to the international community" to divert attention from Russia's plan to extend cooperation with South Ossetia and Abkhazia.
"If the Russian government is sincere about lifting the sanctions against Georgia, normalization should be completed by end of April [at the] latest," Asly said.
In its April 18 statement, the Russian Foreign Ministry said Moscow is "sincerely interested in normalizing relations with Georgia… [And] expects reciprocal positive steps."
Bakradze, the Georgian foreign minister, seemed to suggest that was unlikely.
"If anyone in the Russian government thinks they can annex a third of Georgia's territory while improving relations with the other two-thirds, they are deeply mistaken," Bakradze told reporters on April 18.
Ana Datiashvili contributed reporting
.