Georgia celebrates Palm Sunday
By Eter Tsotniashvili
Monday, April 21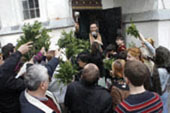 Yesterday Georgia celebrated Palm Sunday, the beginning of Holy Week, attending church services clutching symbolic willow branches.
Catholicos-Patriarch of All Georgia Ilia II addressed the nation during his sermon at Sameba Church with a strictly religious message—however, after the ceremony he had a political message for Moscow, when he handed the Russian ambassador a letter calling on Russia to stop supporting separatism.
"The current situation is not in keeping with the spiritual brotherhood and the spirit of good neighbourly relations between our two peoples of one faith," the letter reads, going on to assert that "short-sighted steps could lead us to a critical tipping point."
Moscow recently announced its intention to increase official ties with the de facto authorities in Georgia's separatist enclaves of South Ossetia and Abkhazia, prompting an outcry from Tbilisi.
Palm Sunday marks the day when Christians believe Jesus Christ entered Jerusalem, with well-wishers lining the streets throwing palm branches in his path, hailing his arrival.
"Today is one of the most important holidays," ecclesiastic Adam Akhladze told reporters yesterday. "When our God entered holy Jerusalem by donkey, people welcomed him."
Georgians credit the first celebration of the festival to fifth century Constantinople Bishop Saint Proclus, who declared, "Let's take palm branches and welcome our God."
Georgians, like other countries where palm branches are not readily available, use willow branches as a substitute.
"I want to congratulate all of you and wish you freedom," Tbilisi resident Nini Elizbarashvili said about the holiday. "Only God and his favor can save us."
"This is a great holiday when our god came in Jerusalem with lots of people who adored him. In a week we have Easter and wish everyone health and happiness," parishioner Aleko Nemsadze said.
Georgia will celebrate Easter on April 27.