Burjanadze not to run for reelection
By Eter Tsotniashvili
Tuesday, April 22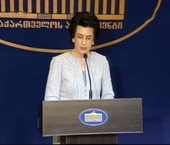 In a surprise announcement yesterday evening, Speaker of Parliament Nino Burjanadze said she will not stand for reelection to parliament in next month's election.
"I made a decision not to run in the parliamentary election on May 21," Burjanadze said at a press briefing televised live. "This is a final decision, and will not change." Her departure from the election campaign strips the ruling National Movement of a prominent and widely-respected figure, who has been with the government of President Mikheil Saakashvili since its first days.
Burjanadze, who was at the top of the ruling party's electoral list, said her decision to bow out stemmed from disagreements over who should run on the National Movement's party list.
"Despite very serious, extensive and difficult consultations, unfortunately, a consensus could not be reached about the National Movement's party list. I think this is not a tragedy…it can happen in every democratic country," Burjanadze said. "… Different positions do not signify weakness of the authorities, and it will not weaken the unity of our government on the country's vital issues."
She said she will serve out her term as parliamentary speaker, and will not join the political opposition.
A spokesperson for the parliamentary speaker said yesterday that Burjanadze would not quit politics, but did not suggest what capacity she would next serve in.
She said she had informed President Saakashvili, the ruling party leader, about her decision.
Commenting at the end of the day, the president praised Burjanadze as a "real patriot" and said he was sorry to see her go.
"[Burjanadze] will stand as one of the most important political figures in our history," Saakashvili said.
Burjanadze held the parliamentary speaker's post twice, and twice stood in as acting president when the country faced crisis in the 2003 Rose Revolution—of which she was a leader—and again after the turmoil of November 2007, when Saakashvili stepped down to rerun for president after a violent crackdown on anti-government protestors.
Elected as a representative from her home town of Kutaisi, Georgia's second city, Burjanadze regularly topped surveys as one of the most respected politicians in government.
During political standoffs this winter, Burjanadze at times acted as a mediator between opposition and the authorities, but eventually was accused by the opposition of obstructing negotiations.
Her spot at the top of the party list will now be taken by Foreign Minister Davit Bakradze, followed by State Minister for Refugees and Resettlement Koba Subeliani.