Tbilisi says Russia shot down Georgian spy plane
By Winston Featherly
Tuesday, April 22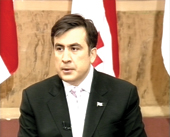 President Mikheil Saakashvili said a Russian fighter jet shot down an unmanned Georgian spy plane over separatist Abkhazia this weekend, a charge dismissed by Russian officials.
Georgia's air force commander released video footage yesterday which he said came from a Georgian spy drone destroyed over Abkhazia on April 20. The video, filmed from a plane flying above a coastline, shows what Georgian officials say was a Russian MiG-29 destroying the filming aircraft.
The incident marks an upsurge in tensions days after Moscow moved to bolster links with separatist Abkhazia and South Ossetia. Georgian leaders say the Kremlin's actions, which the Russian government says are meant to improve life for conflict zones residents, amount to annexation of the breakaway territories.
In a live television address last night, President Mikheil Saakashvili called the alleged Russian air attack an "unequivocal act of international aggression."
He also said Russia's actions in Abkhazia over the last week are "a violation of international law unprecedented in the post-WWII period."
Saakashvili said he called Russian President Vladimir Putin to "categorically demand" an end to "aggressive attacks" and a halt to Moscow's plan for deepened links with the two separatist regions.
In its account of the telephone conversation, the Kremlin said Putin expressed surprise that Georgia is carrying out flights "for military purposes" over Abkhazia.
In closing his address, Saakashvili said Georgia will respond to the incident with peaceful measures.
Secessionist authorities in breakaway Abkhazia claimed on April 20 that their air force downed an unmanned Georgian spy drone. In response, the Georgian state minister for reintegration issues did not deny the downing of a Georgian aircraft, but said that the Abkhaz do not have the capability to shoot down an unmanned plane.
Initial Georgian news reports on April 20 suggested a Russian helicopter was responsible for the explosion, citing eyewitnesses in the breakaway region.
But Abkhaz de facto deputy defense minister Garri Kupalba said again yesterday that the Abkhaz, not Russian, air force shot down the Georgian plane.
He told news media that the Israeli-made spy drone was downed over the village of Gagida by an L-39 fighter jet.
Commander of the Georgian air force Colonel David Nairashvili told reporters that video footage of the incident, which shows a twin-tailed aircraft firing a missile toward the plane-borne camera, proves that the attacking jet was a MiG-29, which he said neither the Georgian nor Abkhaz air forces fly. The L-39 is a single-tailed aircraft.
"This is a Russian fighter aircraft shooting down a Georgian [unmanned aerial vehicle]," Nairashvili said, narrating the footage.
A Georgian Defense Ministry spokeswoman, citing Nairashvili's comments, said Tbilisi also has radar records which show a MiG-29 taking off from the Abkhazian town of Gudauta, where Russia had a military base it says closed down in 2001.
The spokeswoman said the MiG-29 flew south, shot down the Georgian aircraft, then flew north into Russia.
A Russia Defense Ministry spokesperson declined to comment yesterday, but an aide to the head of the Russian air force told Russian news media that all pilots had the day off on April 20 when the Georgian drone was shot down.
The Russian ambassador to Georgia was summoned to the Foreign Ministry yesterday over the incident.
Christina Tashkevich contributed reporting.